Slow-Roasted Crispy Pork Belly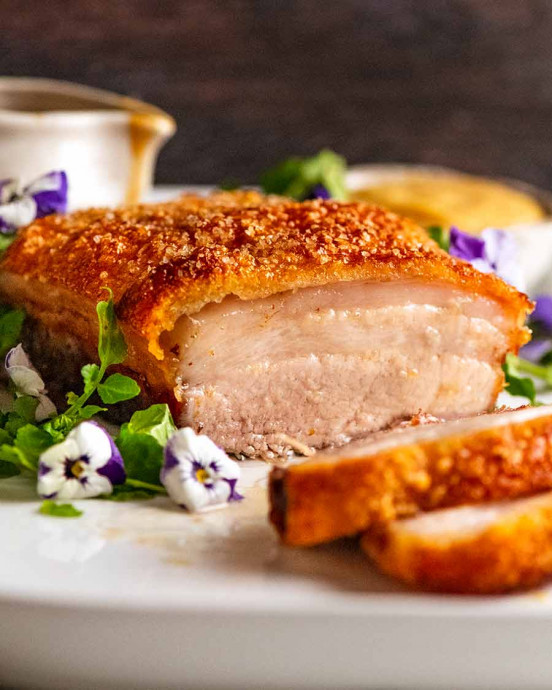 This is a pork belly that's slow-roasted so the fat renders and cooks the belly confit-style in its own fat. The result? Ridiculously juicy, impossibly tender yet still-sliceable meat, crowned with the most amazing crispy crackling of your life. It comes down to three simple, game-changing techniques: 1. Do not score the skin; 2. Low heat followed by high heat; 3. Keep the pork level using balls of foil. Perfect meat, perfect crackling … Every. Single. Time!
Two special sauces for Slow-Roasted Crispy Pork Belly! Apple Sauce! Apple is a time-honoured partner for pork on the plate, and Apple Sauce is one of the most classic expressions. This Apple Sauce is made with just fresh apples, vinegar, sugar and water and is as fine as they come. Delicious as this thick puree of apple is, I did however feel that the Apple Sauce and pork needed a third player – some kind of meat-based sauce – to truly bring this pork belly dish together.
Vermouth Jus – If the word jus calls to mind fine dining French restaurants, you'd be right. Made with a heavily concentrated homemade beef stock with extra flavor and complexity thanks to the addition of vermouth, this jus catapults pork belly from "just" excellent home cooking into the echelons fine dining restaurant kitchens! Slice the pork belly, serve with mash, a green bean salad with a dab of Dijon Mustard or a simple homemade gravy as the sauce, and you'll be eating as well as anyone tonight.
Ingredients:
1kg / 2 lb pork belly with skin on. Look for 3 – 3.5cm / 1.2 – 1.6" thick, even thickness with flat, unwrinkled skin, preferably not vac-packed
1 1/2 tsp olive oil , divided
1/2 tsp fennel powder / ground fennel seeds , optional, Note 3
1 tsp salt , cooking/kosher salt (or 7/8 tsp table salt), divided
1/4 tsp black pepper
Apple Sauce
Vermouth Jus
Cauliflower Puree