Baked Blueberry Oatmeal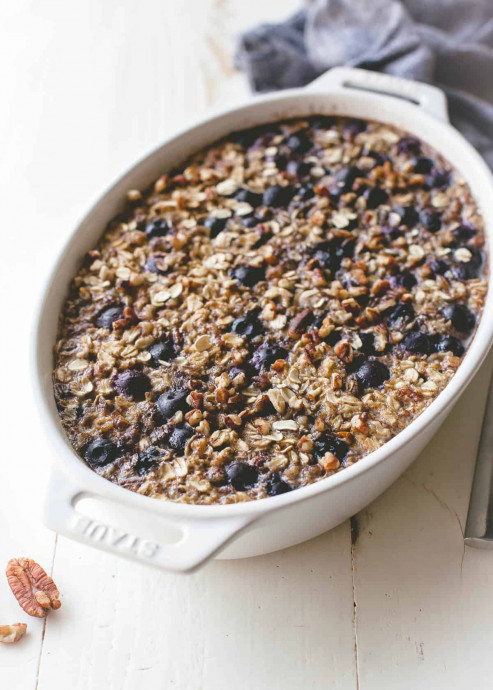 Baked oatmeal takes just a few minutes to prepare and then the oven does the rest of the work. It's great for make-ahead / meal prep breakfasts or for serving a crowd. If you've never made baked oatmeal before, let me tell you the real reason to make it. It's not because it's simple or convenient or great for meal prep or great for a crowd (though it is all of those things). The real reason to make baked oatmeal because it will make your entire kitchen smell like it has been wrapped up in a cozy, warm, cinnamon-laced blanket. Which is exactly what we need in the morning any time of year.
Baked oatmeal does require some time in the oven (about 35 minutes), but it only takes 10 minutes of prep to get everything ready for baking. The leftovers can be easily sliced into individual portions and then breakfast is ready for the whole week. This version of baked oatmeal is made with fresh or frozen blueberries and chopped pecans, but almost any of your favorite oatmeal mix-ins will work. See below for a few ideas!
Ingredients:
2 Eggs
2 cups Milk
1/3 cup lightly packed Brown Sugar (substitute honey or maple syrup)
1 tsp Ground Cinnamon
1 tsp Baking Powder
1 tsp Pure Vanilla Extract
2 1/2 cups Rolled Oats (sometimes labeled "Old-Fashioned Oats; do not use Instant or Quick-Cook Oats")
2 cups Blueberries, fresh or frozen
1/2 cup Pecans, roughly chopped (optional)
Maple syrup or honey (optional, for serving)