Speedy Tofu Teriyaki Bowls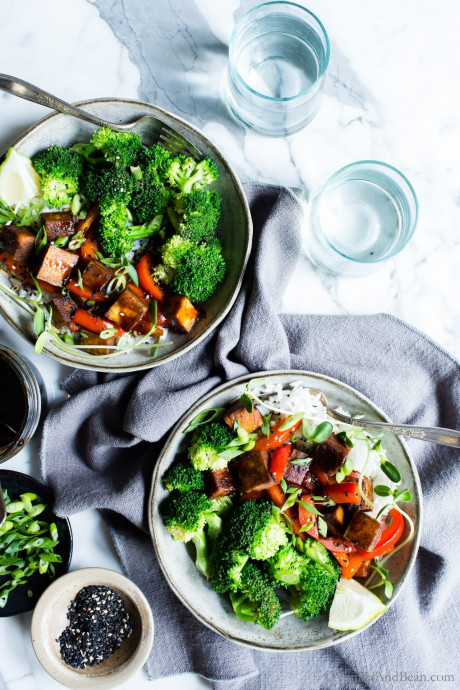 With a little meal prep, Speedy Tofu Teriyaki Bowls come together with ease for a simple and flavor-packed weeknight dinner. I'm also sharing how to marinate tofu so its full potential can be realized! This recipe is vegetarian, vegan and gluten free. Quick vegetarian rice bowls are my idea of easy weeknight dinners. I find with a little advance planning or meal prep, dinners like this teriyaki tofu recipe come together with ease and make weeknights a little less crazy.
Packed with umami flavor and endless texture, this teriyaki tofu recipe has finally made its way into our regular tofu rotation after futzin around with a gluten free Ginger-Garlic Teriyaki Sauce recipe for way too long. Tofu can marinate from 15 minutes up to several days. The longer the marinade, the more time it has to soak up all the deliciousness. It's the marinade that gives tofu flavor, otherwise on its own, it's pretty bland. Marinated tofu can be frozen for up to two weeks!
There is a lot going on in this recipe, but it comes together with ease. Be sure to have all the veggies prepped before turning on the stir-fry pan or steaming the broccoli.
Ingredients:
1 block (200g) Firm Tofu drained, pressed and cut into bite size pieces (about) 1" (2.5cm) cubes
3/4 C (165g) Jasmine Rice
1 1/4 C (297g) Water
1/2 C (145g) Ginger-Garlic Teriyaki Sauce divided + more for serving
1 1/4 lb (567g) Broccoli stems removed, florets trimmed
2 tsp Toasted Sesame Oil
1 Red Bell Pepper large, cut into 1/2" (1.3 cm) strips, then cut in half
Share with: Sesame seeds, sprouts, lime wedges and green onions