Coconut Curried French Lentil Soup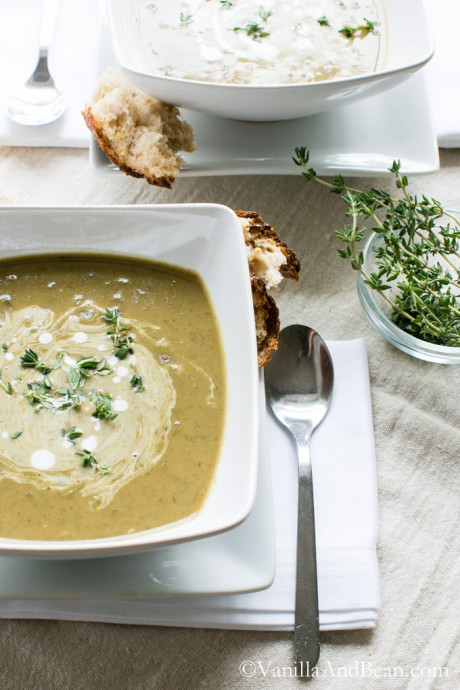 Thick, creamy, rich and simple to make, Coconut Curried French Lentil Soup is an elegant, quick and delicious soup for any season. vegan + gluten free. It's a quick weeknight soup to pull together and is so satisfying. All the ingredients are pantry staples, save the fresh herbs, so in a pinch, I can whip this soup up in no time flat.
Served with a salad and sourdough or naan, it's a quickie! There is more to love about this soup, besides its nutrition. It's economical. With only a few ingredients and the spices and lentils being bought in bulk, this soup costs about $1.50 per serving. That's a lot less than the Bachelor spent on a single rose, I'm certain. So delicious, healthy, comforting, and so easy to make! A perfect dish for lunch or dinner!
Ingredients:
2 Tbs Coconut Oil
3 Cloves of Garlic minced, about 1 1/2 Tbs
1 C Yellow Onion small dice, about 1
1 1/2 tsp Cumin ground
1 tsp Curry Powder I use hot madras
1 tsp Thyme dried
1/2 tsp Cinnamon ground
6 C Vegetable Broth
1 1/2 C French Green Lentils picked through and rinsed, aka Lentils du Puy
2 Leaves Bay
14 oz Can of Coconut Milk with 2 Tbs reserved for drizzling (1 Can)
1/2 tsp Sea Salt
1/2 tsp Ground Black Pepper
2 Sprigs of Fresh Cilantro chopped, for garnish (optional)
4 Sprigs of Fresh Thyme for garnish