Smoked Salmon, Avocado and Arugula Salad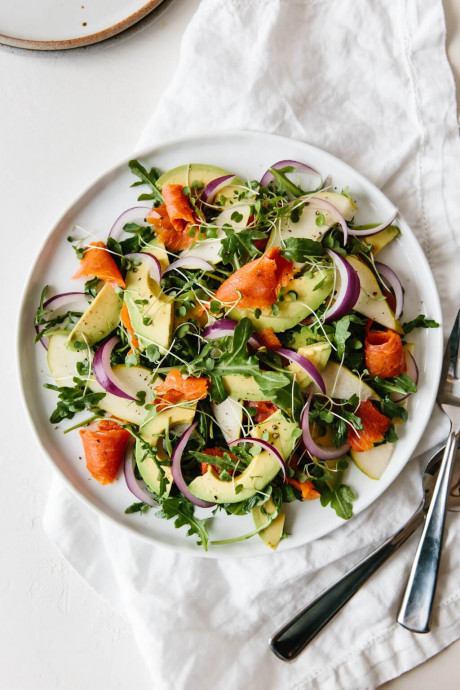 When it comes to an arugula salad recipe, this combination of smoked salmon, avocado and arugula is one of my favorites. It's light yet filling and simple yet impressive.
Simple salads that are pleasing to the eyes and the palate are always winners. If you're like me, you don't want to fuss too much with extravagant salads, especially during the summer. And sometimes you want a hearty protein on your salad but don't want to cook. If that sounds like you, let me introduce you to my smoked salmon, avocado and arugula salad. A salad that takes less 5 minutes to make yet looks like it took 30 minutes.
Arugula is "peppery" green that some might consider bitter or spicy. I personally love arugula and use it nearly as often in salads as I do baby spinach (my number one salad green). But if you're one of those who's on the fence with the flavor of arugula make sure to buy baby arugula. Baby arugula has a milder flavor than it's full-sized counterpart. The wonderful thing about arugula though is that it can be paired with a wide variety of ingredients, ranging from sweet to strong flavors. It can hold it's own in a salad or play well with others. Today's salad recipe is an example of that, where the arugula is combined with salty and smoky salmon, creamy avocado, sweet red onion and a vibrant champagne vinaigrette. It's an unbelievably simple, yet delicious flavor combination.
Ingredients:
4 cups arugula
1 cup microgreens
6 ounces smoked salmon, torn into pieces
1 1/2 avocado, sliced
1 pear, sliced
1/2 red onion, thinly sliced
salt and pepper