Irish Cream Macarons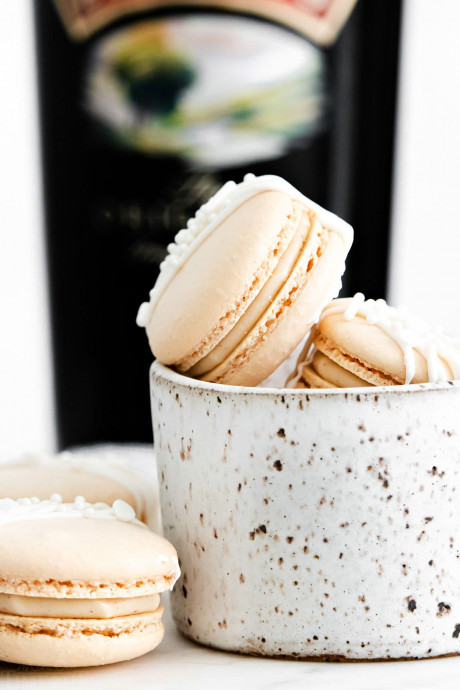 Light and airy Irish Cream Macarons are delicate cookies with a chewy texture. The Irish Cream filling takes them over the top! These picturesque treats will impress everyone you serve them to! Besides being very pretty, Irish cream macarons are also delicate and delicious! The crunchy shell and creamy middle of macarons require a bit of technique to master, but with my easy-to-follow steps, you'll have it down in no time.
While I'll definitely be making a batch of these sweet macarons for St. Patrick's Day, I also love making them all year long! These sweet and creamy cookies are truly heavenly, and impossible not to crave. Macarons are traditional French (some say Italian!) cookies that have been around for ages – since the 19th century, at least. The delicate cookies themselves are usually made with egg whites, granulated sugar, powdered sugar, and almond flour. The filling in between the two crunchy, yet chewy cookies differs for each recipe. This one calls for Irish cream, of course!
Ingredients:
For the Shell
3.2 oz egg whites
3.2 oz granulated sugar
1 cup powdered sugar
1 cup almond flour finely ground
For the Filling
2 tbsp. cream cheese softened (whipped cream cheese or block cream cheese)
2 tbsp. Irish cream
1/2 cups powdered sugar
1/8 tsp ground cinnamon