Blueberry Baked Oatmeal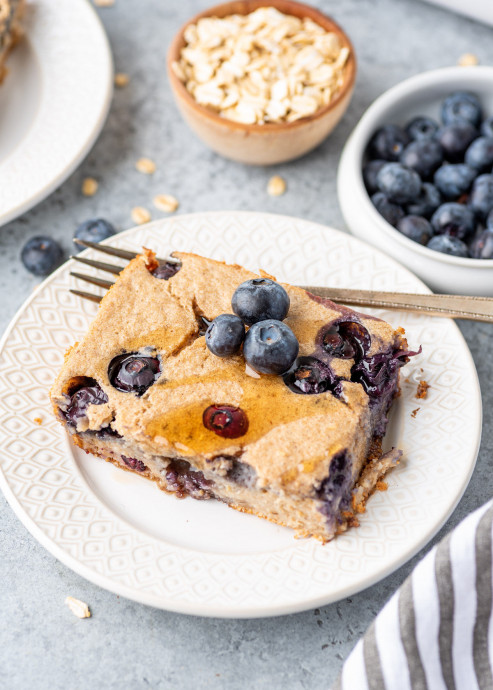 If you like oatmeal, you will love Blueberry Baked Oats. Instead of preparing your oats on the stove or in the microwave, you will combine them with fresh ingredients and bake them. You will add honey, cinnamon, vanilla extract, and other ingredients together to create a healthy, flavorful breakfast that you can enjoy each morning. If you would love to fuel your body with something good for you each day, this recipe is it.
Making the Blueberry Baked Oats is easy. You will need to set your oven to 375 degrees F and wait for it to get warm enough. While you wait, add all the ingredients into a blender. Blend the ingredients for a minute before pouring them into a casserole dish. While you can use frozen blueberries, they will not have the same great taste like fresh blueberries. When preparing this Blueberry Baked Oats recipe, it is best to use fresh blueberries. Cow's milk is great to use, but you have other options. If you do not like cow's milk or cannot use it because of lactose intolerance, you can use almond milk or oat milk in this recipe. If you are planning to use almond or oat milk, consider using the unsweetened kind to avoid making your oats taste too sweet. You can use any fruits. Whether you want to add fruits on top with your blueberries or replace them, plenty of other fruits taste good when paired with these oats. You can use sliced bananas, raspberries, or even diced, peeled apples. Follow this recipe as a base for any fruit-flavored baked oats you decide to make.
Ingredients:
2 cups rolled oats
1 cup milk of choice
1/4 cup honey or maple syrup
2 bananas
2 eggs
2 tsp EACH baking powder, cinnamon, vanilla extract
1 cup fresh blueberries
Pinch of salt