Southwest Chicken Salad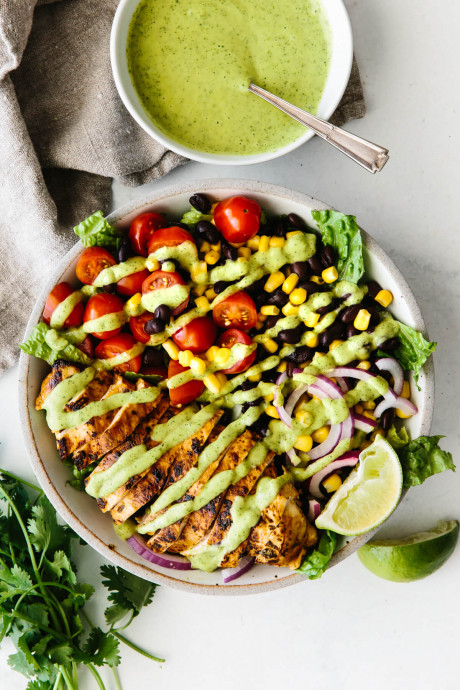 Southwest chicken salad is a hearty "main dish" kind of salad with bold flavors. Chicken breasts are marinated in cilantro lime goodness, then seared until golden and added to a bed of romaine lettuce along with sweet corn, black beans, and grape tomatoes. A generous drizzle of creamy avocado dressing ties it all together. With a few pantry staples and fresh ingredients, this recipe comes together easily.Crisp greens get topped with juicy spiced chicken, sweet corn, hearty black beans, juicy tomatoes, and creamy avocado dressing. Let's just say this will have your taste buds craving for more. So don't forget to make extra chicken!
While I love adding avocado slices to my salads, a drizzle of this creamy avocado dressing creates the same flavor – but better. In a liquid form that makes it easy to pour onto salads or macro bowls. When your chicken is almost done marinating, quickly blend together the ingredients in a food processor. Customize your salad! Make it vegan. Substitute the chicken with one can of chickpeas and simply toss it together with the rest of the ingredients. Or make a batch of roasted sweet potatoes for a warm and filling option. If you want to add avocado slices instead of using the dressing, you can lightly drizzle citrus lime vinaigrette, lime crema, or chipotle sauce instead. It'll add a fresh and bright punch to this salad.
Ingredients:
4 boneless skinless chicken breasts, approximately 6 ounces each
3 tablespoon olive oil (divided)
2 limes , juiced and zested
1/4 cup chopped cilantro leaves
3 cloves garlic, minced
1 teaspoon ground cumin
1/2 teaspoon chili powder
1/2 teaspoon salt
1/4 teaspoon black pepper
FOR THE SALAD
4 cups romaine lettuce, chopped
1 1/2 cup cherry tomatoes, halved
1 cup black beans, rinsed and drained
1 cup corn, rinsed and drained
1/3 cup red onion , thinly sliced
AVOCADO DRESSING
1/2 large avocado
1/4 cup olive oil
1/4 cup water, or more for thinner consistency
1/4 cup cilantro, basil or parsley leaves
1 lime, juiced
2 cloves garlic, minced
salt and pepper, to taste