Mushroom Spinach Pasta with Shallots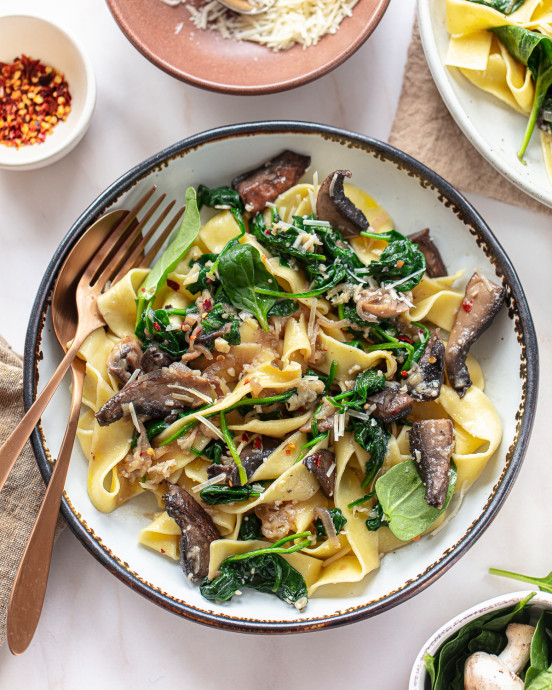 A flavor-packed mushroom and spinach pasta recipe featuring wide pappardelle pasta noodles in a savory olive oil, garlic and white wine sauce full of chunky mushrooms, fresh spinach and shallots. Bookmark this one! This recipe makes bowls of deliciousness that are perfect to serve as a weeknight meatless pasta dish. And I'd say this pasta is absolutely what you'd want to make a for a date-night dinner at home.
Thick pasta noodles (I used pappardelle but fettuccine are good too) are tossed in a meaty mushroom-based sauce and a healthy amount of fresh spinach, olive oil, shallots and garlic. The finishing touch is a a few tablespoons of butter (but no cream) to bring all the flavors together.
We can't get enough easy vegetarian recipes. Even though my family enjoys eating meat more than a few times a week, I think I could easily go without it.
I especially enjoy the combo of mushrooms with spinach because it feels so nourishing. Mushrooms are magical to cook with, especially if you're trying to cut out meat or reduce it in your everyday cooking. They're naturally rich in minerals like potassium and magnesium as well as B vitamins and fiber. They add a satisfying meaty texture to any dish.
Ingredients:
3 tablespoons (45 ml) extra virgin olive oil
½ cup thinly sliced shallots, about 1 large or 2 medium
Kosher salt
10 ounces (275 g) white button mushrooms, sliced into chunky pieces
8 ounces (225 g) portobello mushrooms, sliced into chunky pieces
2 garlic cloves, finely chopped
½ teaspoon crushed red chili (use less for milder heat)
Freshly ground black pepper to taste
8 ounces (225 g) dried pappardelle or fettuccine pasta, or 1 pound fresh pasta
¼ cup (60 ml) rosé or dry white wine
3 tablespoons (45 g) butter, salted or unsalted
¼ cup grated Parmesan cheese, plus more for serving
5 ounces (150 g) baby spinach leaves