Slow Cooker Sausage and Cheese Tortellini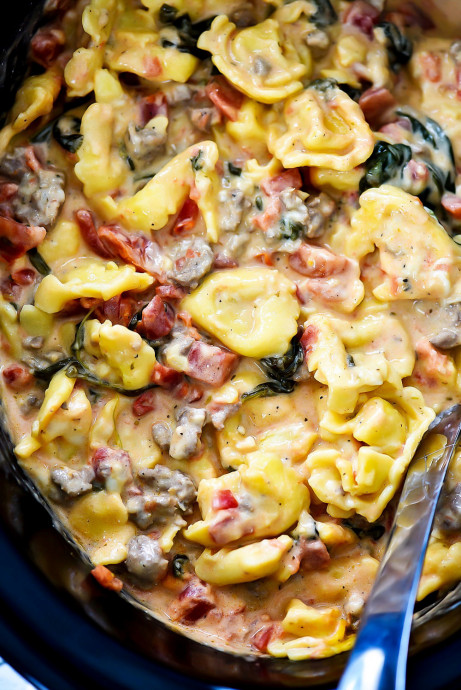 Tender sausage, cheese tortellini, juicy tomatoes and hearty spinach come together to create this delicious Slow Cooker Sausage and Cheese Tortellini. It's comforting, hearty and easily prepared in the slow cooker! This delicious meal-in-one is so comforting and so easy to prepare. With only a few simple steps, this sausage and cheese tortellini meal may just become your new go to. All you have to do is brown the turkey sausage over medium heat while breaking it into small pieces. Then place the cheese tortellini into the bottom of a well-greased slow cooker, followed by the cooked sausage and the rest of the ingredients.
Be sure to place the cream cheese on the very top (so it doesn't curdle) and then you can go about your day while the slow cooker does the rest of the work!This slow cooker recipe is one of the rare ones where I do like to stir a few times throughout its cooking process. This ensures that the tortellini doesn't stick to the bottom. I don't touch it the first two hours it cooks, but after that feel free to stir just a few times before it's done. After it's finished cooking, sprinkle on a cup of shredded Mozzarella cheese on top and you're done. You now have a pot filled with a rich, creamy and comforting dinner ready to be devoured! It's perfect for when you're craving some good old home-cooked comfort food and your kids will love it too!
Ingredients:
1 pound lean turkey sausage
1 bag (19 ounces) frozen cheese tortellini
3 cups baby spinach leaves
2 cans (14.5 ounces, each) diced tomatoes, drained
3 ½ cups chicken broth
1/2 teaspoon salt
1/4 teaspoon pepper
1 teaspoon Italian seasoning
1 block (8 ounces) cream cheese, cubed
1 cup shredded Mozzarella cheese