Bibingka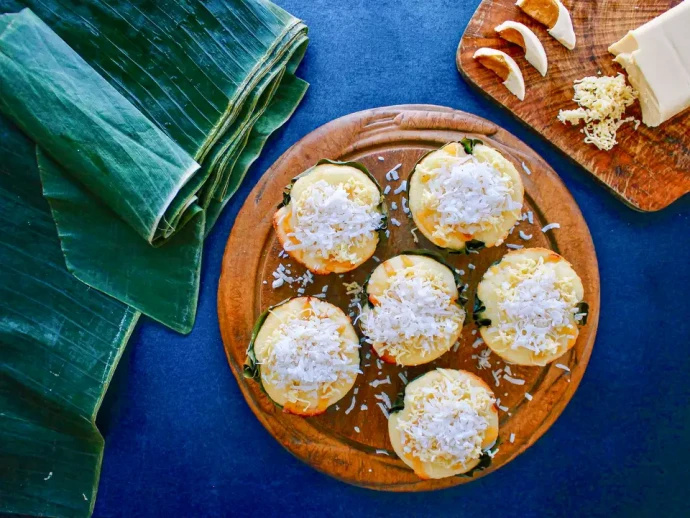 Bibingka, a sweet and savory coconut rice cake, is a favorite in the Philippines. This dessert is especially celebrated during the Christmas holiday but remains a popular street food year-round. Though the cake is sweet, it's the notes of savoriness that make this dessert so special.
If you choose not to use the salted duck egg, don't skip out on the cheese. It adds an amazing layer of creaminess that make it the swoon-worthy treat its known as. The banana leaf contributes a mild earthy flavor, while also doubling as a nonstick liner, but you can also use cupcake liners or nonstick spray.
This recipe turns the traditional cake into individual servings for easy sharing and snacking. These smaller portions are common with street vendors, but we provide instructions for a large 9-inch variation in the tips section, if desired.
Ingredients:
Nonstick spray, optional
1 banana leaf, optional
1 cup/105 grams rice flour (not glutinous)
3/4 cup/150 grams granulated sugar
2 1/4 teaspoons baking powder
1/2 teaspoon kosher salt
1 cup unsweetened coconut milk
2 tablespoons unsalted butter (melted)
1 large egg (beaten)
1 salted duck egg (sliced into 6 pieces), optional
6 tablespoons/60 grams grated queso de bola or Edam cheese (such as Babybel Original)