Garbanzo Bean Salad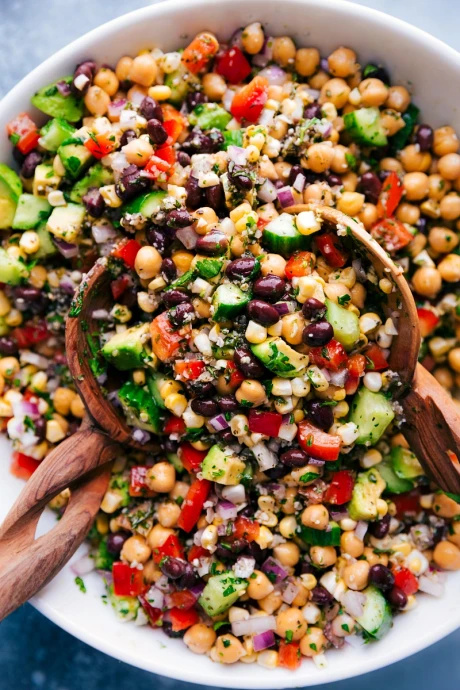 Garbanzo Bean Salad is loaded with veggies, dressed in an Italian-inspired vinaigrette, and finished with some herbaceous parsley! This salad is loaded with texture and color, plenty of nutritious ingredients, and also happens to be vegetarian! The garbanzo and black beans have loads of protein, making this salad super substantial. Then we pair those beans with good-for-you fats from the avocado and you'll be amazed just how satiating this salad is. Of course, you can always serve this salad up with a side of protein — chicken, steak, or salmon would all be delicious accompaniments. I'll share more serving suggestions below along with some details about the dressing and tips for making this salad.
The dressing can be made in advance; just be sure to shake it up again before dressing this Garbanzo Bean Salad. We use all the dressing in this salad (it's a lot, but we love it!), but you may want to use less.
Refrigerate any leftover (or made ahead) dressing. If the dressing separates or hardens in the fridge, don't be alarmed– olive oil does this at cold temps. Simply set it out at room temperature for about 15-20 minutes and then shake it vigorously to re-combine.
Ingredients:
Dressing
3/4 cup (140g) olive oil
1/4 cup (51g) red wine vinegar
1 tablespoon (1g) dried parsley
2 teaspoons dried minced onion
1 tablespoon (17g) freshly squeezed lemon juice
1 teaspoon EACH dried basil, dried oregano, salt
2 tablespoons (15g) grated Parmesan cheese
1 teaspoon white granulated sugar
Salad
2 cans (15.5 oz., 439g EACH) garbanzo beans (also called chickpeas), drained and rinsed
1 can (15 oz., 432g) black beans, drained and rinsed
2 ears fresh sweet corn (or 1 can corn, drained)
1-1/3 cups (76g) chopped English (or Persian/Salad) cucumbers, (~3 Persian/1 English cucumber)
1 large red bell pepper, diced (1 cup; (138g)
1 large ripe avocado, peeled and chopped
3/4 cup (90g) diced red onion (~1/2 of 1 onion)
1/3 cup (16g) finely diced flat-leaf Italian parsley (~1/2 of 1 bunch)
Fine sea salt and fresh cracked pepper