Easy Slow Cooker Sweet Pork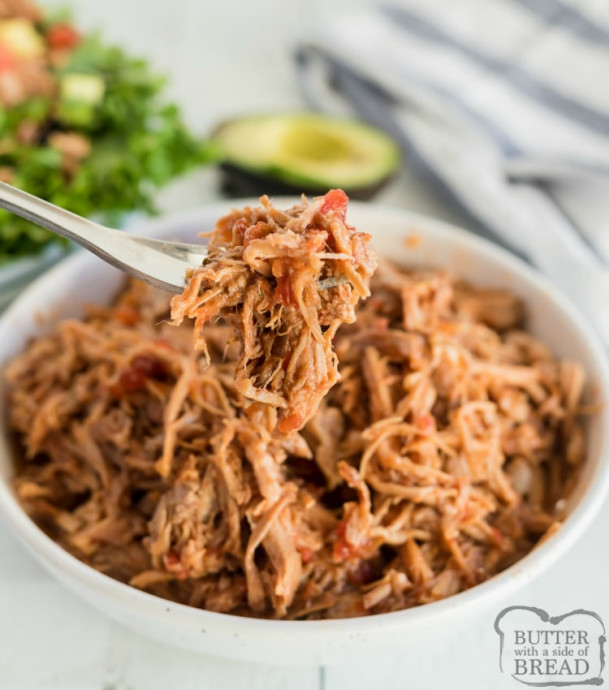 Easy Slow Cooker Sweet Pork requires just 3 ingredients and a slow cooker! Perfect crock pot pork recipe that only takes a few minutes of prep. Serve in tortillas, on a salad, or as a sandwich!
Easy Slow Cooker Sweet Pork is one of my absolute favorite recipes and one that I make at least a couple of times a month! It is sooo easy and delicious and you can serve it in a variety of ways. One of favorite things about this recipe is that it makes enough to last for at least a couple of meals and the leftovers heat up wonderfully!
I have tried several different pork recipes (most of which require at least 6-7 ingredients), and while they have all been good, this one is honestly my favorite and it is definitely the easiest one to make.
I absolutely love going to restaurants like Costa Vida, Cafe Rio or Chipotle and every time I do, I always get a salad with the pork. I don't normally eat a lot of pork, but the taste of the sweet pork on a salad is absolutely delicious. This sweet pork recipe tastes very similarly to the pork that you get at restaurants like Cafe Rio. And there really are just 3 ingredients and you only have to spend a few minutes to put them in the crockpot and then just leave it alone all day. So easy!
Ingredients:
1 boneless pork roast about 2 lbs
16 oz. jar salsa 2 cups
1 cup brown sugar