Easy Homemade Sloppy Joes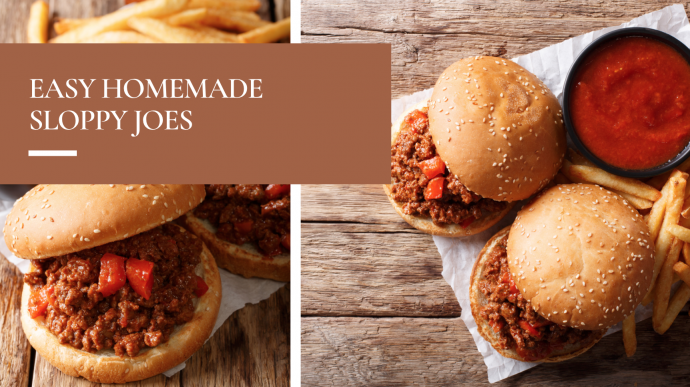 This is the best old-fashioned Sloppy Joe recipe, made with real ingredients and the perfect balance of flavors and texture. Use ground beef or ground turkey. Such a delicious, quick and easy dinner in only 20 minutes. Kids love it and adults can never resist the delicious nostalgia. Double, triple or quadruple this recipe to make a perfect family meal for any night of the week!
Please note, that Sloppy Joes are naturally sweet because of the ketchup and brown sugar. If you prefer it less sweet, adjust or omit these ingredients if you like. No canned sauce or packaged seasonings needed. This sandwich is made from scratch, with simple ingredients. But there's one thing that is not negotiable when serving Sloppy Joes: napkins. Lots of napkins! (Don't come telling me I didn't warn you.)
Ingredients
1 tbsp olive oil
1 1/2 pound ground beef
1 large onion, chopped
1 small bell pepper, diced
3 cloves garlic, minced
3/4 cup ketchup
1 tablespoon yellow mustard
1 tablespoon brown sugar
1 teaspoon smoked paprika
1 cup water
Salt and freshly ground pepper, to taste
1 tablespoon apple cider vinegar
6 burger buns, toasted
Directions
Step 1
In a large skillet, heat the olive oil, over medium-high heat. Add the ground beef and cook, breaking it apart with a wooden spoon (cook until a deep brown crust appears before breaking the beef apart), until browned and crispy, about 8 minutes. Carefully drain the excess grease and return the pan to the stove.
Step 2
Lower the heat to medium and add the onions and peppers, cooking until softened, about 2-3 minutes. Add the garlic and sauté briefly, about 1 minute, to release its aroma.
Step 3
Stir in the remaining ingredients, minus the vinegar, and bring to a boil. Lower the heat to a simmer, cover and cook for 30 to 45 minutes.
Step 4
Add the vinegar and stir to combine. Taste for seasoning and adjust as needed. Cook until most of the liquid has evaporated. Tip: For a saucier Sloppy Joe, you can add a cup of tomato sauce to the mixture.
Step 5
A traditional Sloppy Joe doesn't have cheese, but I love adding a slice of cheddar inside. Serve on burger buns with potato chips. You can also do a nice potato salad or Cole slaw on the side instead.
Sloppy Joes can be made ahead and refrigerated for up to 4 days.
Bon appetit!