Boston Cream Doughnuts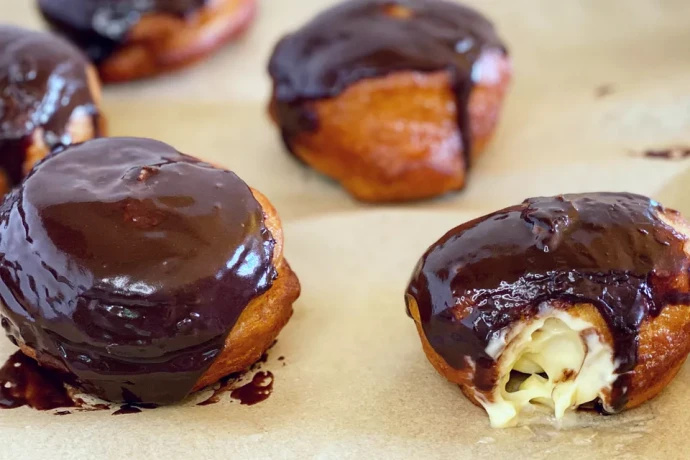 A Boston cream doughnut has all the elements of its namesake cake—and then some. Just like its cake counterpart, it has pastry cream and a chocolate glaze, only the cream is piped inside a yeasted doughnut and the glaze is poured over the top. Bottom line? The whole shebang is just plain amazing.
The doughnuts are fairly easy to assemble, though they do take a while. But don't be deterred! Most of the time is hands off. The doughnut dough comes together easily in a stand mixer and needs about an hour or so to rest before you shape the dough into rounds. While they rest, you can make the pastry cream on the stovetop in about 10 minutes. Let that cool while you continue with the doughnuts. The cut round will need to rest a bit—about a half an hour depending on the temp of your kitchen—before they are fried. After frying, the doughnuts cool while you make the easy-peasy glaze. Then you assemble and voila! Epic homemade doughnuts are all yours for the taking (and eating).
Ingredients:
For the Doughnuts:
3 cups all-purpose flour
2 1/2 teaspoons instant yeast
1/4 cup granulated sugar
1 1/2 teaspoons kosher salt
Optional: 1/4 cup potato starch
3 tablespoons unsalted butter, room temperature
1 cup buttermilk, plus more as needed, room temperature
1 large egg, room temperature
For Frying:
For the Pastry Cream:
2 cups whole milk
1/2 cup granulated sugar
5 egg yolks
1/2 teaspoon kosher salt
1/4 cup cornstarch
2 tablespoons butter, softened
1 tablespoon pure vanilla extract
For the Chocolate Glaze:
1 2/3 cups confectioners' sugar, sifted if lumpy
1/4 cup Dutch process cocoa powder, sifted if lumpy
1/4 cup whole milk
1 1/2 teaspoons pure vanilla extract