Oven Roasted Creamy Pumpkin Risotto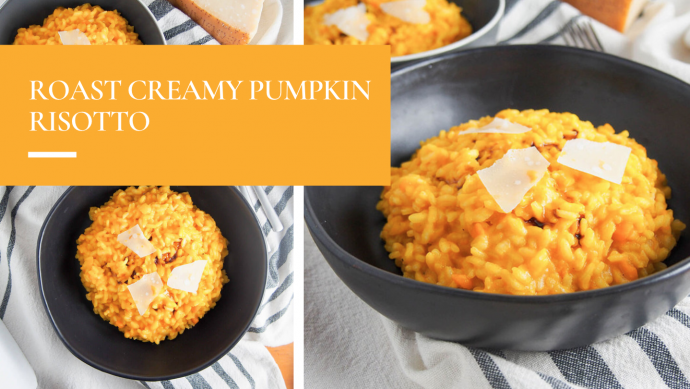 Pumpkin risotto is such a deliciously comforting meal! This version is based on traditional Italian recipes and is easy to make, filling, but not overly heavy. It's a perfect plate of fall goodness. Creamy and delicious pumpkin risotto is a great dinner party dish for friends and family, and it's perfectly warming when the weather is getting colder.
2 important points: the right pumpkin and rice to choose.
What kind of pumpkin and rice to choose?
I found and used a red kabocha squash, which is both on the sweeter side but not quite as dense as butternut. It made a truly delicious risotto. If you can't find red kabocha (or any other kabocha), then butternut, buttercup squash or a pie pumpkin would also work as alternatives.
As for the rice, risotto is traditionally made with arborio or carnaroli rice. Arborio is the most common and easily found in most supermarkets, though many people would argue carnaroli is better, if you can find it. I personally like arborio, that's why I've put it here.
Ingredients
12 oz pumpkin (peeled & seeded, diced)
2 tablespoon olive oil
1 onion (small/med), chopped
2 clove garlic, crushed
1 1/2 cup arborio rice
4 cups stock (vegetable or chicken)
1/4 cup grated parmesan, plus extra shaved parmesan to serve
20 gram butter
1 tablespoon chopped parsley, plus extra to serve
1 pinch nutmeg
1 pinch pepper
1 tsp aged balsamic vinegar to serve
Directions
Step 1
Peel and de-seed the pumpkin. Cut into a relatively small dice. Peel and dice the onion and garlic.
Step 2
Heat oven to 425 °F. Line a baking pan with baking paper. Toss pumpkin with half oil to coat. Season. Arrange in a single layer in pan. Bake 15-20 minutes, until just tender.
Step 3
Heat remaining oil in a saucepan on medium. Stir onion and garlic to soften, 4-5 minutes. Add rice and cook, stirring, 1-2 minutes, until the grains become translucent.
Step 4
Add 1 cup chicken or vegetable stock to the rice, stirring gently and constantly until absorbed. Continue adding stock, 1 cup at a time, allowing it to absorb, until rice is just tender and creamy (about 20 minutes).
Step 5
Once the rice is cooked and the stock has been absorbed, stir through the parmesan, nutmeg and pepper. Adjust seasoning to taste. Serve topped with extra chopped parsley, a drizzle of aged balsamic vinegar, and a few extra shaves of parmesan.
Bon Appetit!