Copycat McDonald's Apple Pie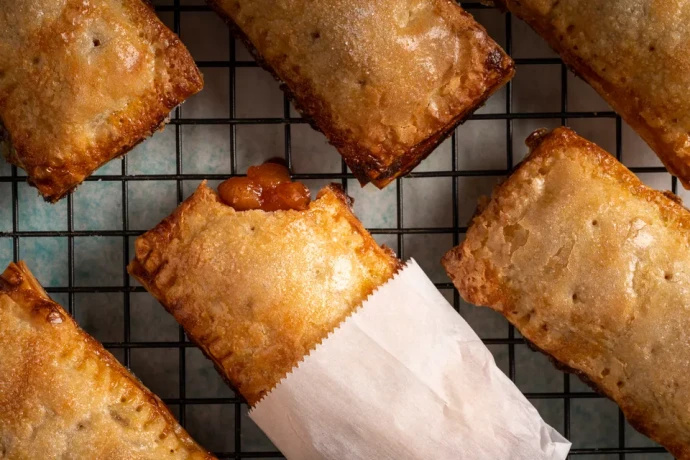 You may crave the burgers and fries at McDonald's, but their signature apple pie is the best way to finish off a meal. Today, the McDonald's apple pies are topped with a lattice crust, but back in the day they were known for their crispy exterior. It's easy to create this throwback copycat recipe in your own kitchen. In fact, this homemade version of the McDonald's apple pie is baked, not fried, but it still has the golden brown and crisp crust we all remember.
These copycat McDonald's apple pies are made quickly and easily by using prepared refrigerated pie crusts. Simply roll out the crust and cut it into equal-sized rectangles. Meanwhile, prepare a cinnamon and sugar apple filling on the stovetop until the apples are soft and coated in a thick, flavorful syrup. Top with the remaining pie crusts and press together with a fork to seal. The pies are then brushed with an egg wash and sprinkled with granulated sugar to create that signature crust. Homemade McDonalds' apple pies are surprisingly quick and easy—in under an hour you'll have a nostalgic treat that will put a smile on everyone's face.
It's fun to serve each individual pie wrapped in parchment paper to mimic the paper sleeve from the restaurant. The apple pies can also be dipped in caramel sauce for an added treat, or even served with a scoop of vanilla ice cream for an easy apple pie à la mode dessert.
Ingredients
2 tablespoons unsalted butter
2 1/2 cups apple (chopped; from about 2 to 4 peeled and cored apples)
1/4 cup brown sugar (firmly packed)
1 tablespoon lemon juice
1 teaspoon ground cinnamon
1/4 teaspoon salt
1/4 cup all-purpose flour (more or less, for dusting)
1 (14.1-ounce) box rolled refrigerated pie crusts
1 egg (beaten)
2 tablespoons granulated sugar