Ham And Cheese Strata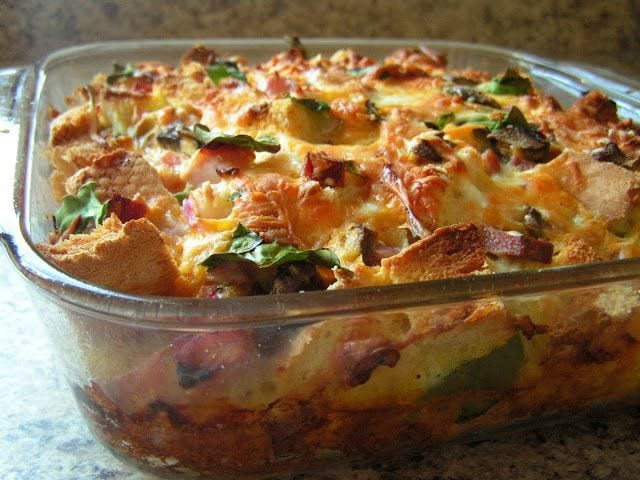 You're going to love this ham and cheese strata. Filled with ham, cheese, bread, red peppers, and eggs this breakfast casserole is flavorful, delicious, and filling. Ham and cheese strata is a delicious breakfast option that's perfect for holiday mornings or long days when you want to start the day with a full tummy. This egg and cheese bake can be made ahead for a faster morning too.
Just take it out of the fridge and place it in the oven for a simple breakfast that requires no maintenance. Of course, you can always make it for dinner too! Breakfast for dinner is always a win in this house! You can substitute various ingredients based on what you have in your fridge. I make it with different vegetables each time, as you can see! It calls for broccoli and jarred red pepper, but I've used a combination of spinach, mushrooms, bell pepper, cauliflower, eggplant, zucchini, and canned tomatoes as well. I normally pick 2-3 veggies to use in one strata. I try and add a total of 2 cups of vegetables, so whatever you choose, aim for them to add up to 2 cups worth. Depending on what time of the day you plan on serving your strata you may find that the side dishes change too. If you plan on serving it for breakfast or brunch some simple fresh fruits, but in the evening a salad or tater tots could be better options.
Ingredients:
6 cups 1-in. cubes plain or whole-wheat Italian bread (about 8 oz)
1 box 10oz frozen broccoli florets thawed and coarsely chopped
2 cups sliced ham coarsely chopped
1/2 cup chopped jarred roasted red peppers
4 scallions sliced
1 cup sharp Cheddar shredded
6 large eggs
2 cup whole milk
2 tbsp yellow mustard
1/4 tsp pepper