Healthy Chicken Salad With Walnuts And Grapes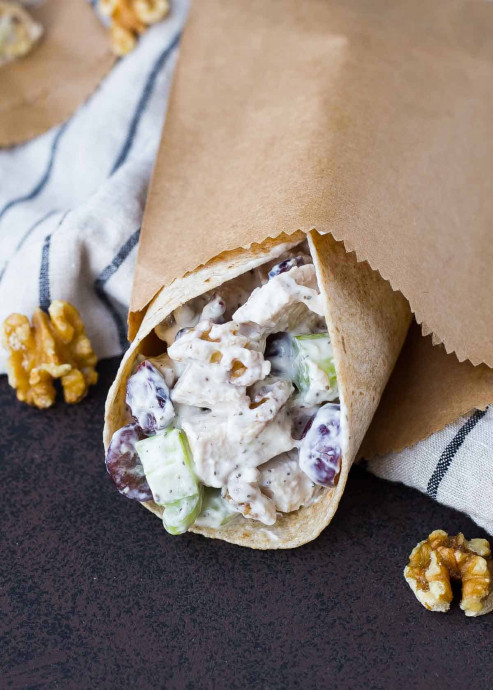 Filling and flavorful, healthy chicken salad with walnuts and grapes is just the thing you're looking for at lunch. Great on a lettuce wrap or tortilla!
Why this healthy chicken salad is the best: I have to say that I'm extremely happy with how this chicken salad turned out! The walnuts give a subtle crunch and of course offer a fantastic nutty flavor. The celery provides a more pronounced crunch and freshness.
The yogurt combined with apple cider vinegar and celery seeds is the perfect dressing to tie this all together – I promise you won't even miss mayonnaise. Making this recipe with Greek yogurt not only decreases fat and keeps it low in calories but it also adds protein to help keep you satisfied for hours.
With 36 grams of protein and 365 calories per serving (using my calculations — I'm not a registered dietician!), it's going to keep you full all afternoon. You get the bonus omega-3's from the walnuts and antioxidants from the dried cranberries – it's one of my absolute favorite lunches right now.
Ingredients:
3 cups diced cooked chicken breast (about 3 chicken breasts or 1.25 pounds)
1 cup diced celery (about three stalks)
1 cup halved grapes
3/4 cup chopped California Walnuts
1/2 cup dried cranberries
1 cup plain Greek yogurt
1 tablespoon apple cider vinegar
1 tablespoon honey
1 teaspoon celery seed (not celery salt)
1/2 teaspoon salt
1/2 teaspoon pepper