Egg Salad Recipe – With Healthy Option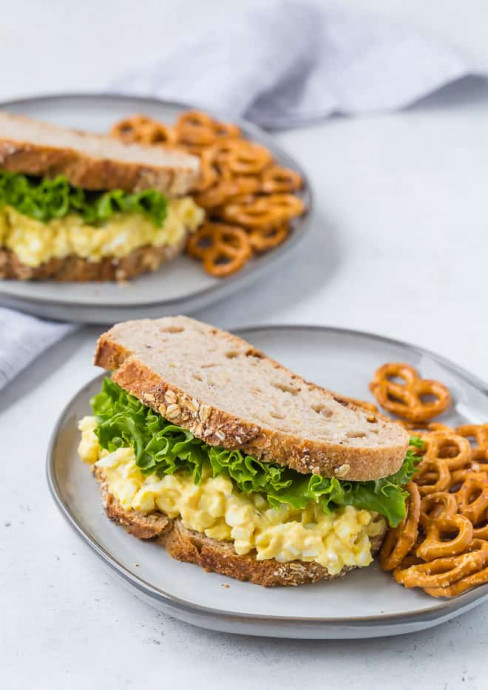 Enjoy this classic egg salad recipe as a quick and satisfying lunch or dinner. Includes a couple of no-mayo options! Eggs keep well–they can hang out at least 3-5 weeks in the refrigerator. So no excuses for running out of eggs–keep a carton or two at all times and you'll be prepared to make all kinds of yummy meals. No last minute thawing necessary, right? Eating eggs is healthy for you, too. According to WebMD, an egg has only 75 calories, but 7 grams of protein and only 5 grams of fat, along with iron, vitamins, minerals, and carotenoids. An egg contains a "powerhouse" of disease-fighting nutrients like lutein and zeaxanthin, both of which are really good for your eyes and skin.
This healthy egg salad can be made just the way you like it. It's such a basic recipe, and it's just crying out for your unique touch. Here's some ideas: Make it even more healthier by substituting Greek yogurt (regular or nonfat) for the mayo. I make it this "no mayo" way all the time. There is very little difference in taste or texture. If you're not sure, try making it half mayo, half yogurt.
Another healthier option is to replace the mayo with avocado. Simply mash an avocado and use it in place of all or part of the mayo. So yummy!
Add a dash of fresh lemon juice to brighten the flavors. Or use more Dijon to enhance the mustard flavor.
Try adding finely chopped celery, onion, green onions, olives, or pimento to your egg salad.
Chopped fresh herbs are delicious, too. Try fresh dill, parsley, cilantro, or chives.
Add smoked or sweet paprika to the egg salad. Or add a southwestern flair with chili powder, cumin, or taco seasoning.
Ingredients:
8 hard-boiled eggs, chopped
¼ cup plain Greek yogurt, or mayonnaise, or a mix of the two
1 tablespoon Dijon mustard, or more to taste
½ teaspoon kosher salt
¼ teaspoon ground black pepper
Bread, croissants, lettuce, or crackers for serving