Coconut Macaroons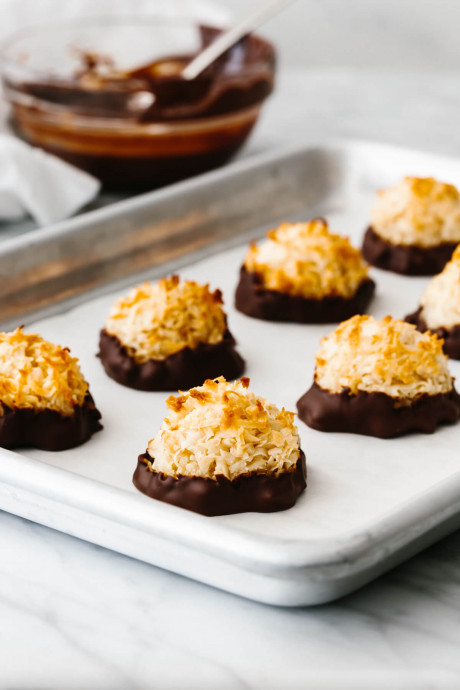 Coconut macaroons are classic bite sized treats with a crispy coating and chewy interior. But when dipped in chocolate, they make for one indulgent dessert.
Did you know that there is a difference between a macaron and macaroon? They're both decadent baked goods and have similar spelling, but are entirely different cookies. Macarons are meringue based and shaped almost like a sandwich. They consist of two halves of delicate, lightweight cookies with a layer of filling in between.
On the other hand, macaroons are coconut based and shaped like dollops. They're fairly dense on the inside and baked to a crispy golden brown. The best part is that they're much easier to make than macarons. All you have to do is mix the ingredients together, place the dollops on a baking sheet, pop them in the oven, and voila!
Oh, and did I mention it only takes about 30 minutes to make and they store well? They'll sure come in handy when you need a bite of sweetness after dinner.
Ingredients:
2 large egg whites
1/4 cup honey
1 teaspoon vanilla extract
1/4 teaspoon salt
2 cups unsweetened coconut flakes
CHOCOLATE DIP
4 ounces chocolate (optional)