Candied Orange Peel (Chocolate Covered)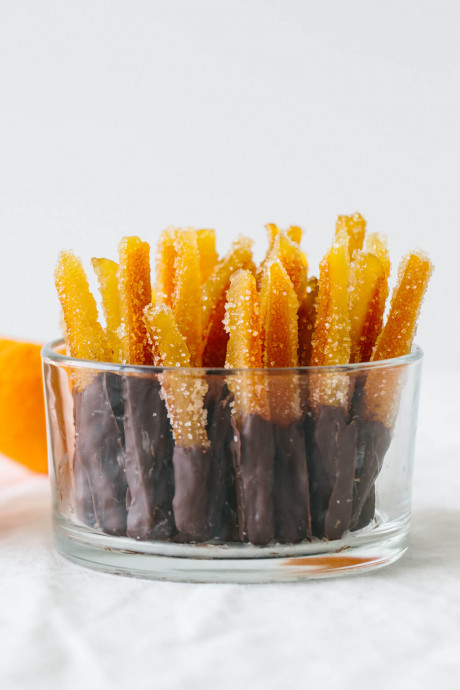 Candied orange peel is the perfect sweet treat with a burst of orange flavor. Orange peels are boiled in a simple syrup until slightly translucent and laid out to dry. Once they've dried, they're coated in the sugar of your choice (you can use paleo and low-carb sugars too).
If you're feeling fancy, you can make chocolate covered orange peel as well! Traditionally, candied orange peel is made with your run-of-the-mill granulated cane sugar. But you can use any sugar you'd like. You could use raw sugar, coconut sugar, honey, maple syrup, monk fruit or erythritol (among many other options). So if you're following a paleo or low-carb diet, feel free to choose the sugar that fits your lifestyle best.
Darker sugars (like coconut sugar) may slightly darken the orange peels when boiled. Honey keeps the orange peels softer than other sugars (and they won't firm up as much). You can store candied orange peels in an airtight container in the fridge for up to a month. If you make a larger batch, you can store in the freezer for up to 3 months.
Ingredients
3 oranges, recommend organic as you're eating the peel
2 cups water
1 cup sugar, plus more for coating
1 vanilla bean, optional
chocolate, optional