Mango Slaw – Perfect Slaw For Fish Tacos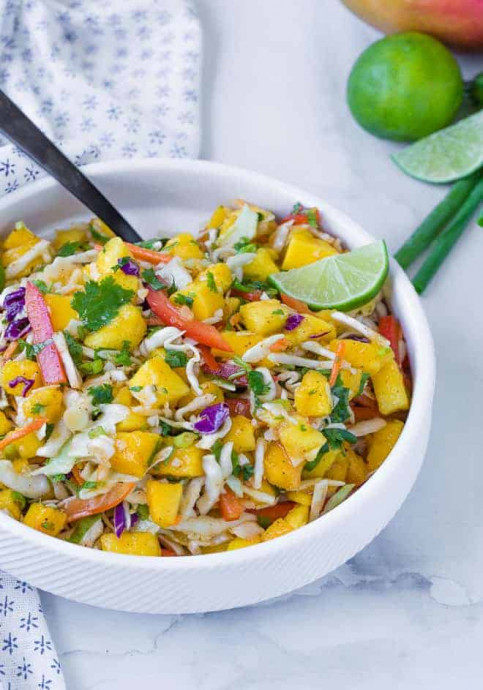 This mango slaw is the perfect slaw for fish tacos, but you'll find yourself eating it all by itself too, because it is that good! This mango slaw is so easy to make, and like I said, I like it on fish or chicken tacos (it would be great on shrimp tacos, too!). It's also fantastic on its own or even with chips.
The rest of the slaw is best if you left the flavors meld for about an hour. So prep this ahead, pop it in the fridge, and then get to making the rest of your dinner. It honestly takes the pressure off – I love prepping ahead whenever possible.
If you want it spicier, add some diced jalapeño. I'd go with one jalapeño pepper. If you like it really spicy, leave in the seeds and ribs of the pepper. If you like a little heat, but not quite as much, just use the green flesh of the pepper.
Make this Whole30 – it's already paleo if you use honey, but you can make it Whole30 compliant by omitting the honey or agave. This will make it extra tangy, but the mango provides really nice sweetness so it will still be tasty. You can decrease the lime juice slightly if you're fearful it might be too sour.
Ingredients:
8 oz bag coleslaw (about 3 cups)
2 large mangoes, diced small (about 2 cups diced mango)
3 green onions, thinly sliced
1/2 cup minced fresh cilantro
1/2 red bell pepper, cut into thin, short strips (a heaping half cup)
2 tablespoons fresh lime juice
2 tablespoons flavorless oil (avocado, grapeseed, or canola)
1 teaspoon honey or agave syrup
1/2 teaspoon chili powder
1/4 teaspoon salt