Baked Parmesan Chicken Nuggets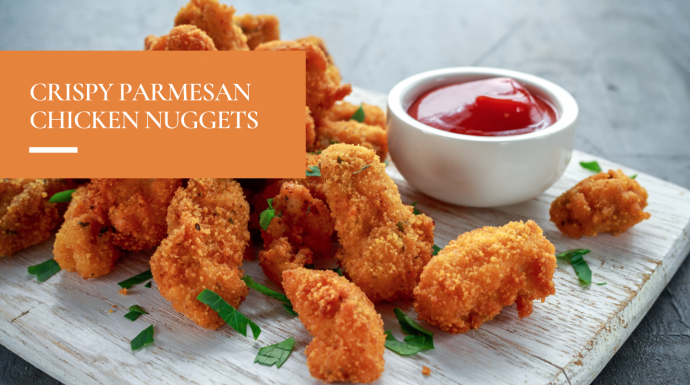 Crispy on the outside and tender on the inside, homemade baked chicken nuggets with no deep-frying are 1000x healthier and tastier at home! The easiest baked chicken nuggets recipe ever!
They can be frozen for up to 1 month and reheated in the microwave or toaster oven. I used parmesan to flavor the nuggets but if parmesan is not your thing, feel free to add any other type of cheese or substitute it with breadcrumbs. I hope you enjoy these nuggets!
Everyone loves chicken nuggets, and if you're a mom, you'll know that chicken nuggets are our secret weapon and a must-have for kids.
Now how do you make delicious and crispy chicken nuggets without deep-frying? You bake them to make these amazing baked chicken nuggets that feed the entire family, including the pickiest eaters.
Ingredients:
2 boneless, skinless chicken breasts, approximately 1 lb.
1 1/4 cup panko, bread crumbs
1/3 cup grated Parmesan
1/4 teaspoon salt
1 tablespoon vegetable oil
1/3 cup all-purpose flour
2 large eggs, lightly beaten
cooking spray
Fresh or dried parsley (optional)
Spicy Ketchup Dipping Sauce:
1/4 cup ketchup
3 tablespoons of any spicy chili sauce (optional)
2 tablespoons mayonnaise
Directions
Step 1
Combine all the ingredients for the sauce and set aside.
Step 2
Preheat oven to 400°F. Cut the chicken into 1.5-2 inches pieces. Set on a dish.
Step 3
Spread panko in a thin layer on rimmed baking sheet and bake for about 3 minutes in the middle rack, until light brown. Transfer the panko to a shallow dish and mix in the Parmesan and coarse salt. Drizzle the oil and mix well. Set out the flour and eggs in separate dishes. Increase the oven temperature to 450°F. Place a wire rack on the baking sheet, lightly coat with cooking spray.
Step 4
In small batches, coat the chicken in flour, shaking off any excess, dip in egg, and lastly coat well with panko. Transfer to the rack. Bake the chicken until desired tenderness, about 12-14 minutes, turning when halfway through. Serve nuggets with the spicy ketchup dipping sauce or any other favorite sauce.
Bon Appetit!