Easy Sweet Potato Casserole with Marshmallows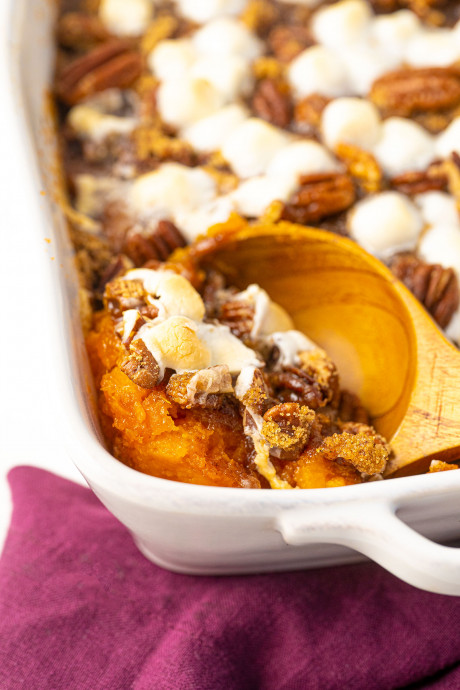 Nothing is more quintessentially western that a sweet potato casserole. While some people might scoff at the idea of eating a root vegetable side dish that is topped with marshmallows, true food lovers know that it is the highlight of the holiday season.
For some more tasty ways to cook with marshmallows, fluffy cranberry salad or a watergate salad are also holiday traditions! We sure love our marshmallow dishes during the holidays! And why not make these peanut butter marshmallow squares?
This version of sweet potato casserole has all of the classic ingredients, with a crunchy addition in the form of some chopped pecans. Expect this to be earthy, sweet, crunchy, and just a little bit salty; the perfect holiday treat. There is no sugar in the sweet potato part of the casserole, as you might notice, as the topping is so sweet by itself! The earthy, buttery vanilla potatoes are the perfect match to the very sweet topping, but if you are a sugar hound you can add some in. I prefer the two layers to contrast. Sweet potato casserole is a classic for a reason; it is tasty, tangy, and deeply satisfying, but a common problem is trying to finish it all in one setting. It is so filling and sweet that most people cannot stomach more than a little bit at a time.
So how do you store it so that you can enjoy it later? Storing sweet potato casserole is really easy; you just need to keep it tightly covered in plastic wrap in the fridge. As long as you make sure that air can't get into it, it should keep for up to 4-5 days or so.
Ingredients:
2 pounds fresh sweet potatoes
1/4 cup salted butter
1/4 cup half and half cream
1-2 teaspoons vanilla to taste
Pecan Marshmallow Topping
1/2 cup brown sugar
1/2 cup all-purpose flour
1/2 teaspoon cinnamon or to taste
2 tablespoons salted butter
1 cup pecans rough chopped, leave some whole
1/2-1 cup mini marshmallows to taste