Instant Pot Mississippi Pot Roast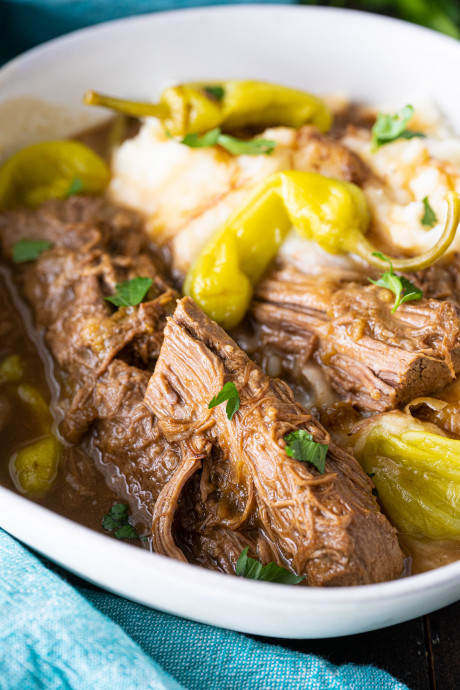 The Mississippi pot roast is one of the most contentious, confusing North American dishes. However, despite its perplexing history and weird ingredient list, it is super easy to make using an Instant Pot and some readymade packets. This is a recipe that you either love, or hate, there is no in between!
This roast never been at the top of my list to make, but I've found that adding a packet of gravy mix (not in the original recipe) cuts the quite overpowering acidity of the original recipe and lessening the pepperoncini's has made it into a recipe that we enjoyed.
Definitely don't skip on the butter either, as that is what gives it all of that rich fattiness that kicks this recipe up to an 11 out of 10!
The key ingredient of a Mississippi pot roast is the use of Pepperoncini's. Pepperoncini's are wildely used in Southern cooking but don't actually come from the US – instead, Pepperoncini's is the name for any chili pepper in Italy. The type commonly consumed in the US, however, is usually a pickled version made from a mix of different chilies like Jalapenos and Tabascos.
This means that the little jars of Pepperoncini's you tend to find in the supermarket can be spicy and very overpowering flavor-wise. So when making this recipe, make sure you don't pour in the entire jar! The chilis and the pickling juice combined can actually overpower your pot roast and make it taste of nothing but intense, spicy chili. Just the right amount, however, lends a really sweet, delicate spiciness that defines this Mississippi pot roast and tastes amazing.
Ingredients:
2 tablespoons olive oil
one 3 pound chuck roast
1 cup beef broth
one 25 gram packet au jus gravy mix
one 25 gram packet brown gravy mix
one 25 gram packet Hidden Valley ranch dressing mix
6-10 pepperoncini peppers amount is personal preference
1/4-1/2 cup pepperoncini juice amount is personal preference
2 tablespoon butter