Baked Guacamole Stuffed Onion Rings with Chipotle Dipping Sauce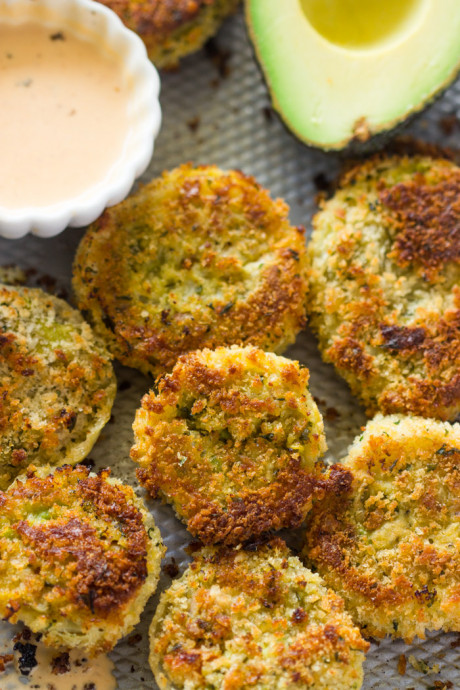 Light, crispy, zesty and addictive. Thick slices of onion are stuffed with guacamole and baked to perfection. Plus, only 35 calories, 4g of carbs and 2g of fat per onion ring! You might have seen these guacamole stuffed onion rings floating around the internet lately. I'm gong to assume this is your first time making them, so let me warn you how dangerously delicious and addictive these little bites are. They are pure genius.
The zesty and spicy guacamole is stuffed into the onion ring, then battered and baked. You can fry these as well if you wish, but baking them was pretty good for us, plus no added calories or oil. All I did was drizzle the top with olive oil before baking.
I paired these rings with our new favorite obsession.. chipotle dipping sauce. It was perfect with these yummy rings! Serve immediately with sauce, or your favorite dipping sauce.
Ingredients:
2 large onions cut into 1/2-inch slices
2 eggs
2 tablespoons milk
1 cup flour
2 cups panko breadcrumbs
olive oil for drizzling
chipotle dipping sauce
For the guacamole:
2 avocados halved, seeded and peeled
2 Roma tomatoes seeded and diced
1/2 medium onion diced
2 tablespoon chopped cilantro
1 lime juiced
1/2 teaspoon kosher salt
1/4 teaspoon ground cumin optional
1/4 teaspoon cayenne optional
1/4 teaspoon black pepper
1/2 jalapeno pepper seeded and minced