Savory Quinoa Pancakes with Parsley Cilantro Vinaigrette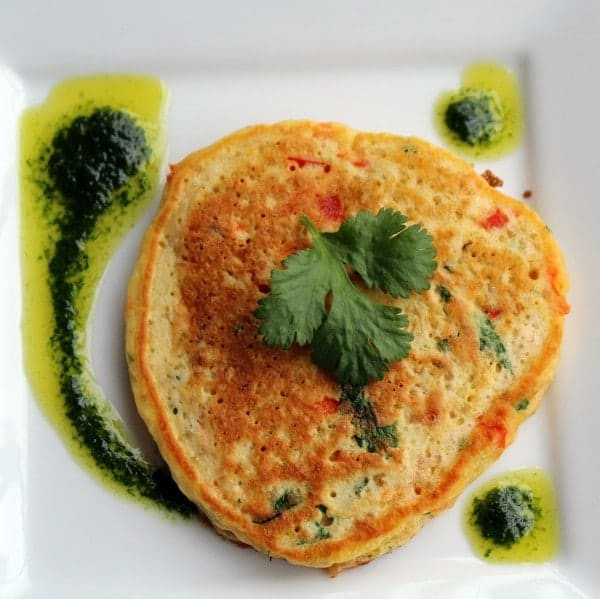 Savory quinoa pancakes are a healthy meatless main dish, made with fresh ginger, shredded carrots and bell peppers and topped with a flavorful parsley and cilantro vinaigrette. One of my favorite uses for quinoa is these pancakes. I love to make a whole bunch of them, pop them in the freezer, and then reheat them in the toaster. Perfection. This recipe is a savory spin-off of those pancakes, with an Asian twist. If you like a sweeter pancake, try my apple quinoa pancakes with warm cinnamon apple compote.
The savory pancakes are not your typical "pancakes with syrup" although my hubs eats any leftover Asian pancakes for breakfast the next day with maple syrup poured over them. Maple. Syrup. Whatever makes him happy is fine with me…
Along with the usual pancake ingredients (flour, baking powder, salt, eggs, milk), grated fresh ginger, fresh cilantro, shredded carrot, and diced red bell peppers are added. Instead of the usual butter or cooking oil, I use the flavorful Arbonsana olive oil and add just a smidge of toasted sesame oil. You can see already how flavorful these pancakes are! Once the pancakes have been cooked, a flavorful parsley-cilantro vinaigrette is drizzled over them. It's comprised of more olive oil, and fresh cilantro and parsley, with a hint of rice vinegar. Very yummy! A great meatless main dish, these savory Asian pancakes also makes a great side dish. I like them with a small green salad.
Ingredients:
Pancakes
1 cup cooked quinoa
3/4 cup all-purpose flour
2 teaspoons baking powder
1 teaspoon kosher salt
1 teaspoon grated fresh ginger
1 tablespoon minced fresh cilantro
1 small carrot, grated (1/4 cup)
1/4 cup finely diced red bell pepper
2 large eggs
1 tablespoon olive oil (+ extra for pan)
1/4 cup milk
1/2 teaspoon toasted sesame oil
Vinaigrette
3 tablespoons olive oil
2 tablespoons chopped fresh cilantro
3 tablespoons chopped fresh parsley
1 teaspoon rice vinegar
1/2 teaspoon salt
1/4 teaspoon pepper