Toasted Cheese Ravioli With Pizza Sauce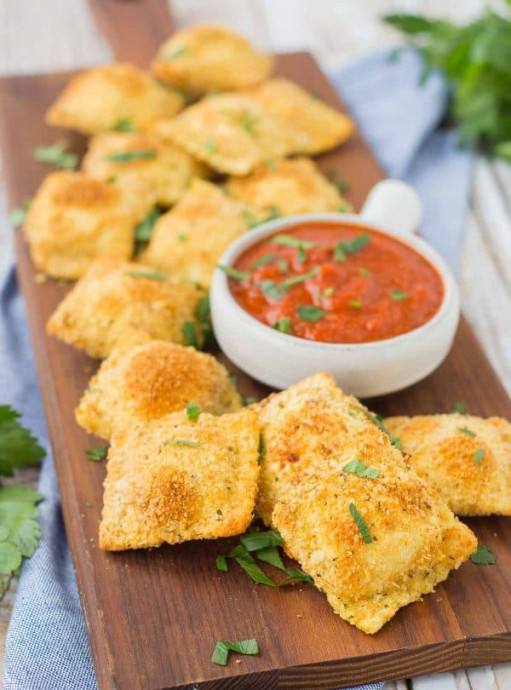 Baked not fried, these toasted cheese ravioli are the perfect game day snack or appetizer. You won't be able to stop snacking on them! Coming at you with another game day recipe! I'm obsessed with these crispy toasted ravioli. They're easy to make and SUCH a total crowd pleaser. They're one of those things that I have to make when I have company coming over or I will literally eat them all myself. Although, thankfully, my picky little 4-year-old loves these too. And since he eats like such a bird, I don't usually have any issues pumping him full of carbs and cheese.
I made these when my in-laws were coming over one evening. They were our appetizer before pizza arrived. It was obviously a healthy night of eating. But in all seriousness, these really are the perfect party food. Everyone loves them, they're relatively easy to make, they're crispy and crunchy even as they cool to room temperature, and they're a pretty hearty appetizer (thanks to the the cheese filling!) that will keep your guests happy and full. Oh, and they include dipping sauce which automatically makes something a winner. You make these using a standard breading process. Dip the cooked ravioli into beaten eggs and then into a mixture of bread crumbs, herbs and spices, and more cheese. You'll love the salty flavor of the Parmesan in the breading. Place them on a parchment paper lined baking sheet (because no one likes a big clean-up after a party) and bake. Easy as that! The only thing left to do after that is watch them disappear…and that will happen quickly!
Ingredients:
1 package (25 oz) frozen cheese ravioli
2 large eggs
3/4 cup Panko bread crumbs
1/2 cup grated Parmesan cheese
1/4 cup traditional bread crumbs
1 1/2 teaspoons Italian seasoning
1/2 teaspoon garlic powder
Pizza sauce for dipping