Butternut Squash Apple Soup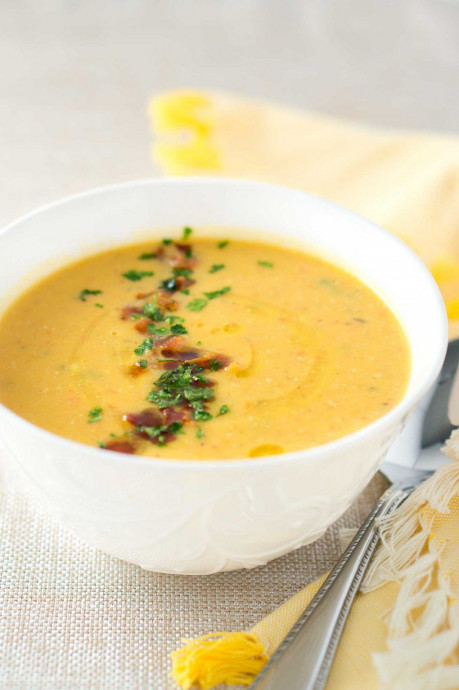 This Butternut Squash Apple Soup is delicious and filling. The combination of flavors is absolutely amazing and goes beautifully with a glass of Chardonnay. This Butternut Squash Apple Soup is quite possibly one of the easiest soups ever. The vegetables are roasted in the oven and then blended with an immersion blender in a pot on the stove. Then milk & yogurt is added at the end and mixed well. We love to top our soup with bacon and parsley. The soup also goes wonderfully with my gluten-free Paleo Cornbread.
The trick to the amazing flavor of this soup is roasting the butternut squash and the other vegetables first. Roasting adds a wonderful depth of flavor and it really brings out the squash flavor. So thick and creamy – the perfect comfort soup in a bowl! Hope you enjoy it!
Ingredients:
5 cups peeled & chopped butternut squash, (seeds removed)
2 medium Granny Smith apples, cored & chopped
2 large carrots, peeled & chopped
2 medium potatoes, peeled & chopped
1 medium sweet potato, peeled & chopped
3 stalks celery, chopped
1 medium onion, peeled & chopped
10 cloves garlic, minced
3/4 cup butter, divided
1 Tbsp extra virgin olive oil
4 cups vegetable stock
1 1/2 cup milk
1 cup yogurt
salt and pepper
6 bacon pieces, cooked and crumbled
parsley, for garnish (optional)