Classic Retro Porcupine Meatballs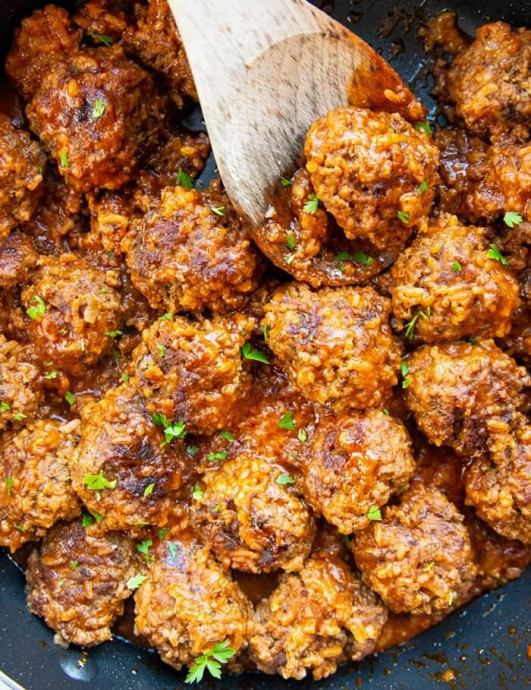 How to make classic porcupine meatballs! These rice filled meatballs with tomato sauce are a one of my favourite recipes from my childhood!
Porcupine meatballs are easy, amazing, retro and so delicious. The only thing that i sometimes change in the traditional recipe is to use half ground beef and half ground pork. I find that the ground pork makes for juicier meatballs. You can use all ground beef if you like, but i suggest trying them with ground pork, they are so delicious! You can definitely double this recipe (i did) you simply need a larger skillet for the meatballs.
I also use two pounds of ground meat in the basic recipe, if you are going to go to all that effort then you should make enough for a few leftovers as well! This meatball recipe yields around 24-25 large meatballs.
Ingredients:
1 tablespoon canola oil
1/2 cup uncooked long grain rice
1/2 cup water
1 tablespoon onion soup mix
1/2 teaspoon garlic powder
1 pound ground beef
1 pound ground pork
one (10-11 ounce) can of tomato soup
1/2 cup water
1 1/2 tablespoons brown sugar
1 tablespoon Worcestershire sauce