Torta Della Nonna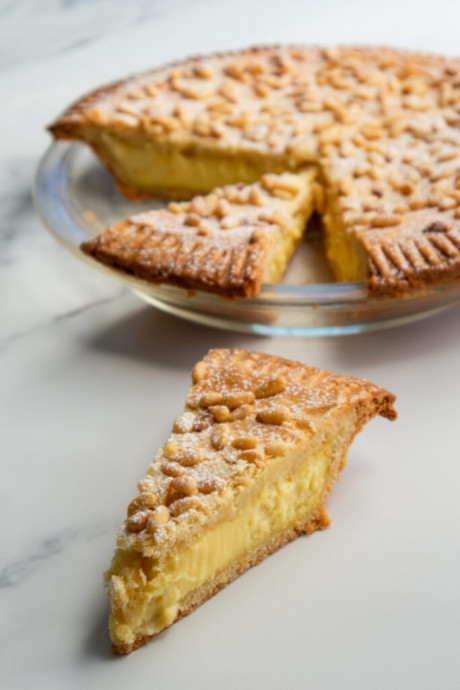 Torta della nonna, literally "grandmother's cake," is a rustic tart made from two simple Italian classics: pasta frolla and crema pasticcera. Lemony pastry cream is sandwiched between two crumbly layers of sweet shortcrust pastry and covered in toasted pine nuts and confectioners' sugar. While the name torta della nonna may evoke an Italian grandmother lovingly throwing together a cake for Sunday's family meal, it was not actually invented by an Italian grandmother at all.
The homespun name is more a nod to the simplicity of the recipe. Creamy, lemony cream is baked into a top and bottom crust made of sugary pastry, then topped with crunchy pine nuts and powdered sugar. The crunchy, nut-topped pastry and the soft creamy center make for a delicious combination in this tempting dessert. The method for making the pastry dough is a bit different from other recipes you might have seen. Rather than cutting cold butter into the flour, the room temperature ingredients are mixed like cookie dough. The butter and sugar are combined, followed by the egg, and then the flour is folded in just until the dough comes together. Try not to overwork the dough when mixing, as it can result in a tough tart shell that shrinks when baked.
For the pastry cream, gradually pour the hot milk into the egg yolk mixture and whisk constantly. By adding the milk slowly, you temper the eggs and prevent them from curdling. After the pastry cream starts to bubble, continue to cook it for another minute. This ensures the starch is fully cooked and the pastry cream won't break down. A trick to prevent the pine nuts from burning in the oven is to soak them in water for a few minutes before scattering them over the tart.
Ingredients:
2 1/2 cups all-purpose flour
1 teaspoon baking powder
1/4 teaspoon salt
14 tablespoons unsalted butter, softened to room temperature
1 cup confectioners' sugar
Zest of 1 lemon
1 large egg, room temperature
Yolk from 1 large egg, room temperature
CREMA PASTICCERA
1/2 cup granulated sugar
3 tablespoons cornstarch
1/4 teaspoon salt
Yolks from 5 large eggs
2 cups whole milk
Zest of 1 lemon
2 tablespoons unsalted butter, cubed
1 teaspoon vanilla extract
EGG WASH
1 large egg
1 teaspoon water
TOPPING
1/3 cup pine nuts
Confectioners' sugar