Homemade Fig Relish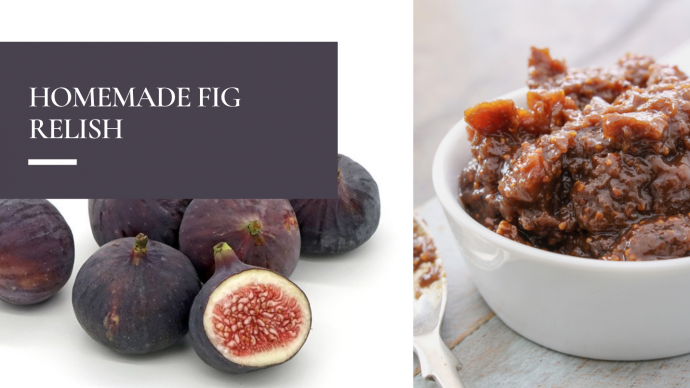 This easy fig and walnut jam is fragrant with cinnamon, star anise, orange zest and maple syrup. This delicious relish instantly elevates a cheese board, making for an elegant appetizer. It also pairs beautifully with roasted port or turkey (as well as with pork or turkey burgers!) Well, I hope you will like it!
You'll need cheesecloth and kitchen twine to bundle the whole spices but if you don't have one you could use a tea steeper or just add the spices and fish them out at the end.
Ingredients
1 ½ cups dried Black Mission figs, about 8-9 ounces, stems removed, coarsely chopped
½ cup water (room temperature)
2 tablespoons maple syrup
1/8 teaspoon salt
1 2-3- inch strip orange zest (removed with a vegetable peeler)
½ star anise
1 2-3- inch cinnamon stick
½ bay leaf
1/4 cup toasted walnuts, chopped
Instructions
Step 1
In a small saucepan, combine the figs, water, maple syrup and salt.
Step 2
Place the orange zest, star anise, cinnamon stick and bay leaf in the center of a 6-inch square of cheesecloth; pull up the sides and tie the ends with butcher's twine to make a little packet (if you don't have cheesecloth you can simply throw the spices in the pot and fish them out at the end).
Step 3
Nestle the packet into the saucepan. Bring the mixture to a boil over medium heat, then reduce the heat to a simmer on your lowest burner. Cook, stirring occasionally and smashing the figs with the back of a spoon, until thickened (it should be the consistency of a jam), about 15-20 minutes.
Step 4
Remove the pan from the heat and discard the packet of spices. Smash the figs a bit more with the back of the spoon. The relish should be thick, but if it looks dry you can stir in a splash or two of water. Stir in the walnuts. Toasted chopped walnuts are stirred into the relish at the end, providing a delicious nutty crunch. Serve warm or at room temperature.
This fig relish can be refrigerated for up to 3 weeks. Bring to room temperature before serving.