Mandarin Orange Salad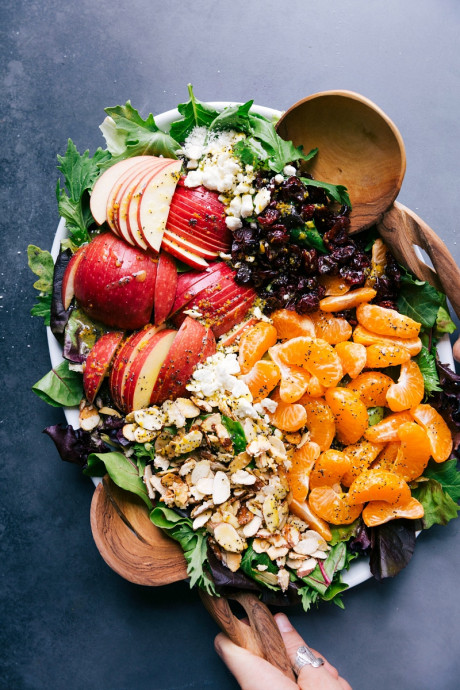 This Mandarin Orange Salad is loaded with juicy oranges, crisp apples, sweetened dried cranberries, tangy feta cheese, and easy stovetop candied almonds. Add a simple citrus vinaigrette that is sweet, tangy, and completely refreshing to finish this delicious salad.
This salad is a holiday classic that pairs perfectly with other side dishes such as mashed potatoes, roasted vegetables, brussel sprouts, and/or a sweet potato casserole!
This salad is a complete hit whenever I serve it. It's one of my go-to recipes for entertaining, especially during the holiday season when oranges and apples are in season. We love ripe clementines, but we also make it often with canned mandarin oranges; in fact, that's probably my kid's favorite way to enjoy it! They inhale mandarin oranges!
The citrus vinaigrette is such a refreshing dressing with both fresh orange juice and fresh lemon juice. The zest of the orange and lemon further intensifies the ctirus-y flavors. It's also a great all-purpose dressing that goes well on pretty much any fruit-filled salad. This dressing only takes a few minutes to whip together, and is quite easy to make–totally worth the effort.
Ingredients:
Salad
1 cup (95g) sliced almonds
1/4 cup + 2 tablespoons (75g) white granulated sugar
8 cups (5 oz; 145g) mixed green lettuce or fresh spinach
1 can (15 ounces) mandarin oranges (or 3 clementines, peeled and segmented)
2 large apples, thinly sliced (we like Fuji best in this salad)
1 teaspoon lemon juice, optional
3/4 cup (94g) dried sweetened cranberries
3/4 cup (90g) crumbled feta
Dressing
1/2 cup (98g) olive oil
1 large orange (2 teaspoons zest and 4 tablespoons juice (58g))
1 large lemon (1/2 teaspoon zest and 2 tablespoons juice)
2 and 1/2 tablespoons honey
2 teaspoons Dijon mustard
1/2 teaspoon fine sea salt
2 teaspoons poppy seeds