Sausage Pinwheels With Apple, Sage, And Gruyère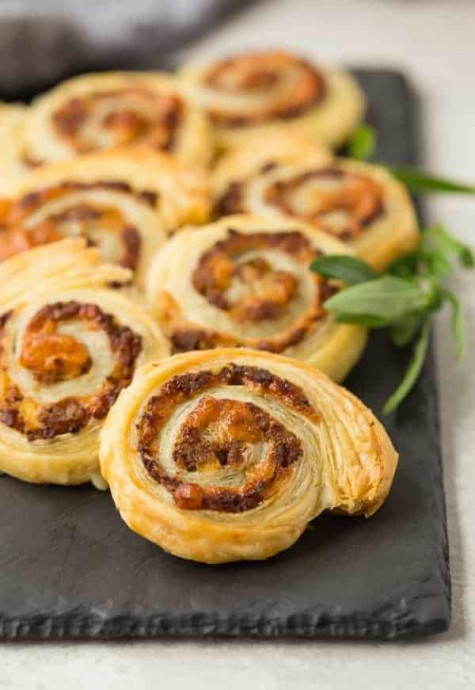 These beautiful sausage pinwheels are the perfect fall appetizer with flavors of apple, sage, and Gruyère. They're irresistible! I have to be honest with you guys though…this recipe was born from some leftover Gruyère.
These sausage pinwheels boast the flavors of fall, all tied together with flaky puff pastry and flavorful sausage. I used pork sausage in this recipe, but you could also use turkey sausage. These are a great party appetizer because they taste wonderful directly out of the oven, but they're also yummy as they cool to room temperature. If they last that long! But I can assure you, you won't have to worry about keeping these warm. As soon as you take them out of the oven, they'll begin to disappear!
To make these easy puff pastry pinwheels, you'll first need to thaw your puff pastry. There's directions for that on the box, but it usually takes about an hour. Once the puff pastry is pliable and easy to work with, you'll roll it out just a little thinner. I do this right on parchment paper to keep it from sticking.
While the pastry was thawing, you'll have made the filling. It's easy to make and you'll begin by browning sausage and onion. This makes your kitchen smell amazing! Once it is cooked, you'll add the apple and continue to cook until it is softened slightly. Stir in sage and the aromas of fall will fill your kitchen!
Ingredients:
1 (17.5 oz) package puff pastry (2 sheets), thawed according to package directions
1 pound ground pork sausage
1 small onion, diced small (about 1 cup diced onion)
1 medium apple, peeled and diced very small ¼ inch, or shredded (about 1 cup diced apple)
4 fresh sage leaves, minced (about ½ tablespoon)
4 ounces gruyere, shredded
1 large egg
1 tablespoon milk or cream