Easy Restaurant-Style Salsa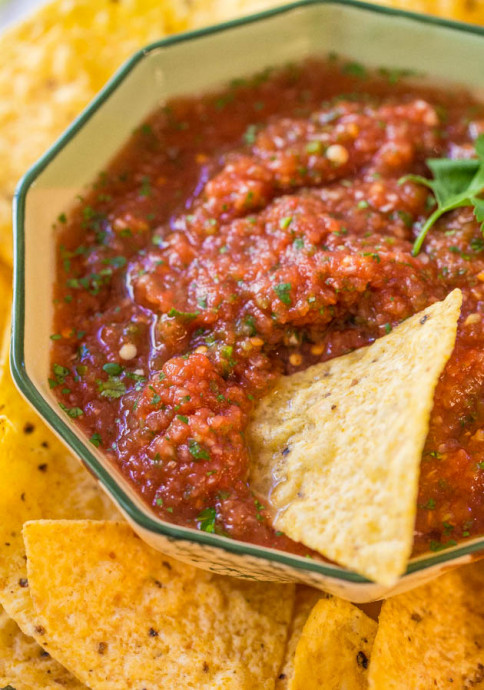 Restaurant-Style Salsa — This easy salsa recipe is a blessing and a curse. Because chips and salsa. The more you have, the more you want. But lucky you, this salsa recipe will teach you how to make salsa at home in just a few minutes in the blender, so you'll never run out! The best part of this salsa is how fast, easy, and goofproof it is. Plus, it doesn't hurt that it's low-cal and all veggies. Add all the ingredients to your blender or food processor, blend, and you're done in under two minutes. My favorite kind of recipe!
Everything tastes better with salty, crunchy corn chips. And the hotter the salsa is, the better.
Over time, the flavors really marry and the rawness of the onion and garlic mellows. We love this easy salsa recipe so much more than any restaurant or store-bought salsa. I love it when homemade, easy recipes trump all the others.This salsa recipe is customizable and requires you to stop, taste-test, and tweak based on your own personal preferences. Everyone's preference for salt, heat, and texture differs.
To make this simple salsa recipe, just add all the ingredients to a blender or food processor and pulse until the salsa reaches your desired consistency. If desired, you can stir in black beans or corn to add extra flavor and texture (stir in by hand, don't pulse in the blender).
You can enjoy the restaurant-style salsa right away, but I actually think it tastes best after it's been allowed to sit in the fridge for a day. This gives the flavors time to come together.
Ingredients:
one 28-ounce can tomatoes, including juice (I used these whole, peeled plum tomatoes)
1 small yellow onion, peeled and roughly chopped
1 or 2 jalepeno peppers, de-stemmed and roughly chopped*
3 cloves garlic, peeled and finely chopped
1 1/2 teaspoons ground cumin, or to taste
1 1/2 teaspoons salt, or to taste (remember some brands of tomatoes and chips are much saltier than others)
1/4 to 1 teaspoon granulated sugar, optional and to taste**
1 or 2 handfuls cilantro leaves, discard stems (I prefer 2)
about 3 tablespoons lime juice
about 3/4 cup corn, optional
about 3/4 cup canned black beans, drained and rinsed, optional
corn chips, for serving