Nanaimo Bars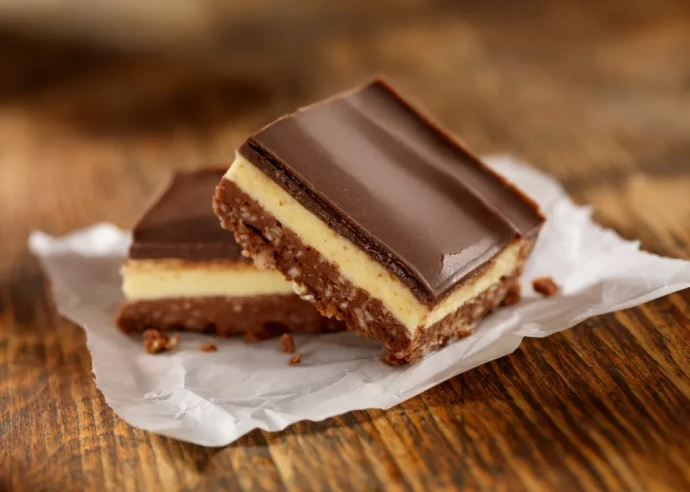 Nanaimo bars are a Canadian treat assembled in three layers: a crunchy, nutty base, a creamy custard middle, and a rich chocolate top layer. The bars are named after the British Columbia city of Nanaimo. The list of ingredients may look long, but the bars come together quickly—plus, there's no baking required. A no-bake dessert that's a summer must! To me they are reminiscent of fudge, or an Almond Joy – but much better of course. It's something about the chocolate, almond coconut combo. A great combination!
They consist of 3 layers, a cracker crumb and chocolate base, a custard flavored icing and then they're finished with a chocolate coating. The instructions for these treats may appear to be long and tedious but these tasty treats are surprisingly super simple to make. They are a no-bake bar, after all. After one taste you'll be wondering where these delicacies have been your whole life!
Because custard powder can be difficult to find in the U.S., the second layer calls for instant pudding mix. However, custard powder is more readily available these days, so check your supermarket's international aisle.
Ingredients:
For the Bottom Layer:
1/2 cup unsalted butter (4 ounces)
1/4 cup granulated sugar
1/3 cup cocoa powder (unsweetened)
1 egg (beaten)
1 teaspoon vanilla extract
Dash salt
2 cups graham cracker crumbs
1 cup coconut (flaked, sweetened)
1/2 cup almonds (or pecans, chopped)
For the Middle Layer:
1/4 cup butter (2 ounces)
3 tablespoons heavy cream (or milk or half-and-half)
2 tablespoons instant vanilla pudding mix (or custard powder, if available)
2 cups powdered sugar (8 1/2 ounces)
For the Top Layer:
3/4 cup semisweet chocolate chips (or 4 ounces broken semisweet baking chocolate)
2 tablespoons butter (1 ounce)