The Best Pound Cake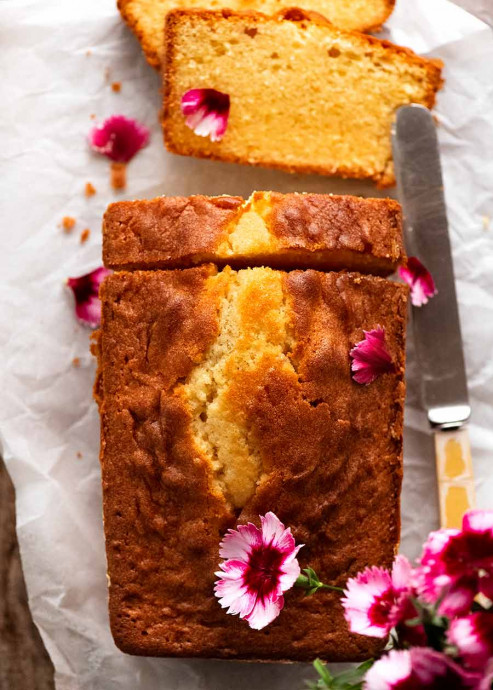 Pound Cake can spark spirited debates in the baking world. Some are adamant we should stay true to the traditional method that uses no baking powder in order to give it lift, resulting in quite a dense, heavy cake by modern tastes. Others insist on "improving" Pound Cakes by making the crumb much lighter and fluffier, giving rise to something (hah!) that barely resembles what a Pound Cake should be like.
Me? I walk the line. I don't want my Pound Cake to be light and fluffy like Vanilla Cake – if I did, I'd just make Vanilla Cake! Nor though do I want it made without any leavening agent at all, which I do find gives an overly heavy result.
So this recipe uses just a bit of baking powder. Just 3/4 teaspoon, to be precise, in order to lighten up the crumb a touch whilst still bearing that signature denseness with all the vanilla buttery goodness we know and love about Pound Cake.
This is one of those cakes that's extra-lovely served warm. If you do serve it warm, it's wonderful even just eaten plain.
Whether served warm or at room temperature, it's still essentially a plain vanilla cake however. Which means it can always benefit from adding a dollop or smear of something! Here are some suggestions:
Whipped cream and fresh berries – very traditional
Mascarpone, crème fraîche or thick yogurt instead of cream
Butter with honey, jam or a fruit compote
A sprinkle of crushed nuts (pistachio would look and taste especially fabulous) for texture, teamed with any of the above listed dolloping things
Ice cream or cream – Just think: warm Pound Cake and a scoop of ice cream, perhaps with a drizzle of chocolate sauce. Aaaahhhh! Be still my beating heart!
A dusting of icing sugar / powdered sugar – great with any and all of the above.
Ingredients:
3 tbsp milk , full fat, at room temperature
3 large eggs , at room temperature (150 – 165g / 6oz total including shell)
1 1/2 tsp vanilla extract
1 cup cake flour , sifted (if using cup measures, measure after sifting
3/4 cup caster sugar (superfine sugar)
3/4 tsp baking powder , check to ensure it's still good
1/4 tsp salt
13 tbsp (185 grams) butter, unsalted, softened to 18°C / 64°F