Super Easy Strawberry Fudge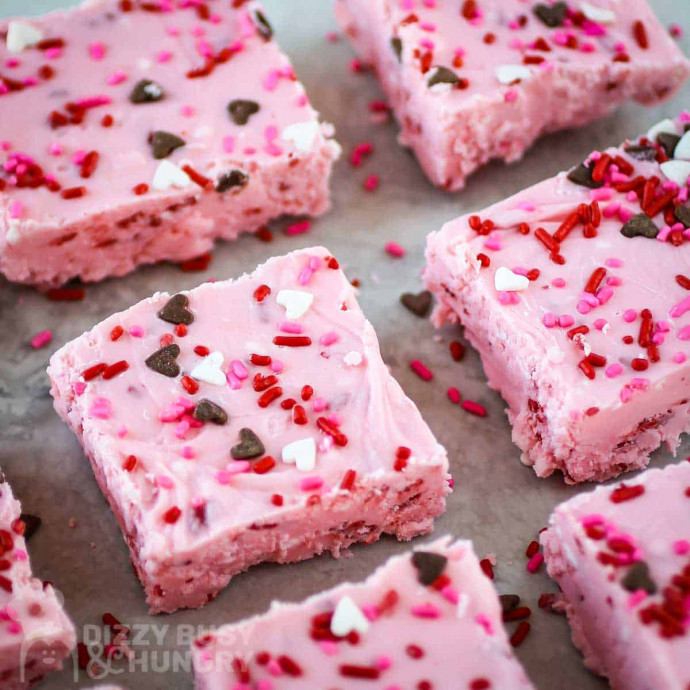 You'll love this unbelievably easy to make, decadent Strawberry Fudge Recipe! Top it with your favorite sprinkles for a fun holiday treat! It only takes a few minutes to make so the kiddos won't get tired in the middle and leave you to finish up by yourself! I love this recipe because the only cooking involved is done in the microwave, and the ingredient list is totally manageable for a project with the kids, even younger ones. Plus, with Valentine's Day coming up really soon, it's a timely treat and you can even make a double batch to gift or freeze for later!
Be sure to mix the extract together with the frosting well before adding it to the chocolate.
I know it will be hard, but be sure to allow the white chocolate strawberry fudge to completely set up prior to slicing! Top the strawberry fudge with toasted shredded coconut, wouldn't that be yummy? Topping it with chopped nuts or course sea salt would also be delicious! It is amazingly easy to make and so good!
Ingredients:
16 ounces strawberry frosting
1/2 teaspoon strawberry extract
12 ounces white chocolate chips
1/4 cup red and white sprinkles