Beer Battered Shrimp Tacos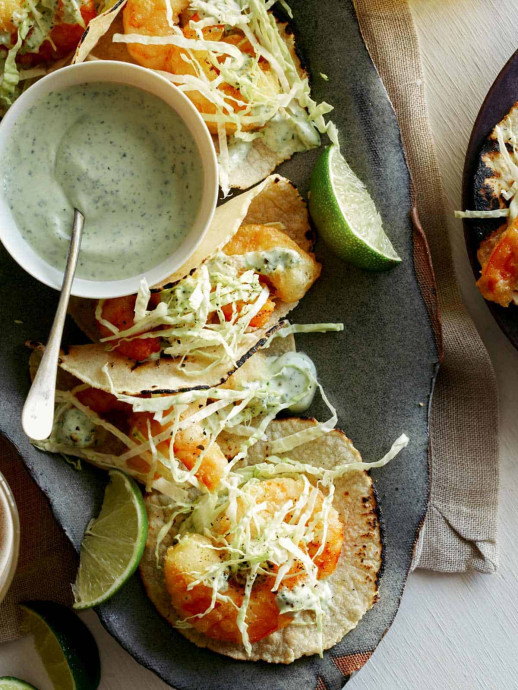 These delicious shrimp tacos are covered in a light and airy batter and fired. We topped them with some crunchy slaw, and then drizzled on a really flavorful cilantro-lime crema. These are so delicious! I love when I can make a filling but lighter dinner. Not that fried shrimp are "light" (read diet), but I mean that don't make me feel so heavy, and want to go into a netflix coma in my bed.
During the warmer weather situations I just need light things that won't make my feel like a sausage bursting out of it's casing. Hot weather makes me a crabby mean terrible person, and I feel bloated no matter what. So these Beer Battered Shrimp Tacos are good in two ways. Good because they are delicious, and because they are fried which is just always delicious, and also good because they don't me feel like a whale. Yay! Warm weather feel good food.
Ingredients:
1 recipe homemade corn tortillas
2 ½ cups finely shredded savoy cabbage
1 green onion, thinly sliced
1 tablespoon minced cilantro
3 tablespoons apple cider vinegar
2 teaspoons whole grain mustard
2 teaspoons honey
3 tablespoons extra virgin olive oil
salt and pepper to taste
1 cup sour cream
zest and juice of 1 lime
2 tablespoons minced cilantro
salt and pepper to taste
12 large shrimp, peeled and deveined
1 cup all purpose flour
1 tablespoon cornstarch
2 teaspoons salt
1 teaspoon cracked black pepper
1 (12 ounce) beer of choice
to fry
oil for frying
garnish
lime wedges for serving