Strawberry Salsa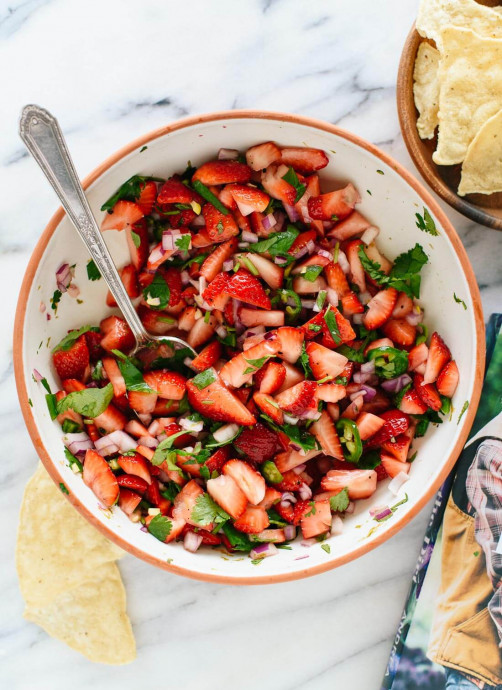 If strawberries seem strange in salsa, consider that tomatoes are also technically fruit. Using strawberries instead is a fun way to change up salsa and Caprese salad iterations, not to mention pizza.
Unfortunately, my strawberries weren't quite as ripe and juicy on the inside as they appeared to be on the outside. I snapped these photos regardless and let the salsa rest while I went to yoga. When I came back, I was greeted with delicious, juicy strawberry salsa—the lime, honey and salt just needed some time to work their magic. This strawberry salsa is a beautiful party appetizer or snack, and it's as flavorful as it is colorful. I'll definitely be making more batches of it before (and after) ripe summer tomatoes hit the market. I enjoyed my salsa with chips, but I imagine it would be great on crostini, too—maybe with some feta mixed in, or with goat cheese or ricotta layered in between.
You might also be compelled to go at it with a fork (I guess civilized people would call this "salad"). Be sure to check out Andrea's book for more fresh, seasonal cooking inspiration. It's an absolute stunner!
Ingredients:
Juice and zest from 1 medium lime
1 ½ teaspoons honey or maple syrup
Pinch of fine sea salt
1 pint of strawberries, hulled and diced
1 jalapeño pepper, seeded and chopped (use a smaller jalapeño for less heat, or leave in some seeds for more heat)
½ small red onion, chopped
½ cup chopped fresh cilantro
Freshly ground black pepper, to taste
Chips for serving