Tuna Tartare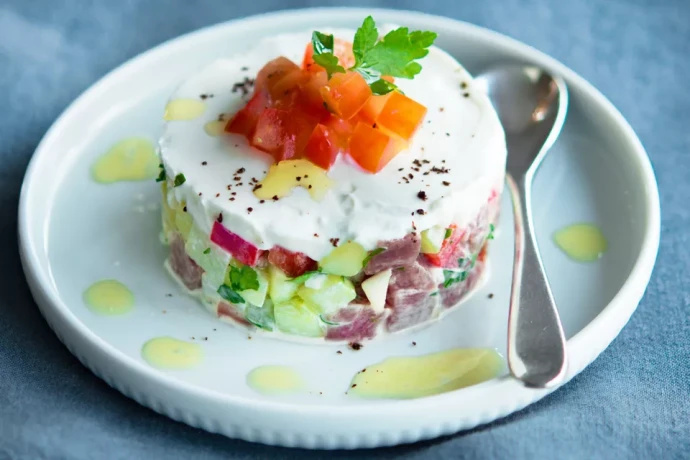 Tuna tartare is a classic dish eaten around the world where the fresh fish is available. This recipe sticks closely to a traditional version without too many bold flavors, allowing the fresh tuna to sing with the other ingredients there to add subtle back notes and texture.
The key to the success of this tartare is to source the best tuna you can: Sushi-grade is perfect as it means the fish is good and safe for eating raw. Always check with your fishmonger or market to how fresh it is. The fish should look fresh, bright, and perky—when pressed (many shops will not like you doing that but you can ask them to do it for you) will spring back quickly.
The fish should not smell fishy, the aroma should be clean if there is any aroma at all. If in any doubt, freeze the fish for 24 hours, then defrost as added security; or buy frozen which is usually done directly on the fishing boat ensuring supreme freshness.
When dicing the vegetables for this recipe they all need to be roughly the same size and no bigger than a 1/4-inch, or finely diced.
Ingredients
For the Dressing:
1 teaspoon white wine vinegar
1 1/2 tablespoons extra virgin olive oil
1 pinch kosher salt
For the Fish:
4 ounces cucumber (peeled, seeded, finely diced)
Kosher salt (to taste)
Black pepper (freshly ground, to taste)
8 ounces sushi-grade tuna
1/4 cup red bell pepper (deseeded, peeled and finely diced)
1/4 cup shallots (finely diced)
1/2 cup potato (peeled and finely diced)
3 teaspoons parsley
2 tablespoons mayonnaise
4 tablespoons sour cream (thick; or Greek yogurt)
For the Garnish:
1 tomato, garnish
Fresh herbs, optional
Sliced avocado, optional