Grilled Tri Tip Sandwiches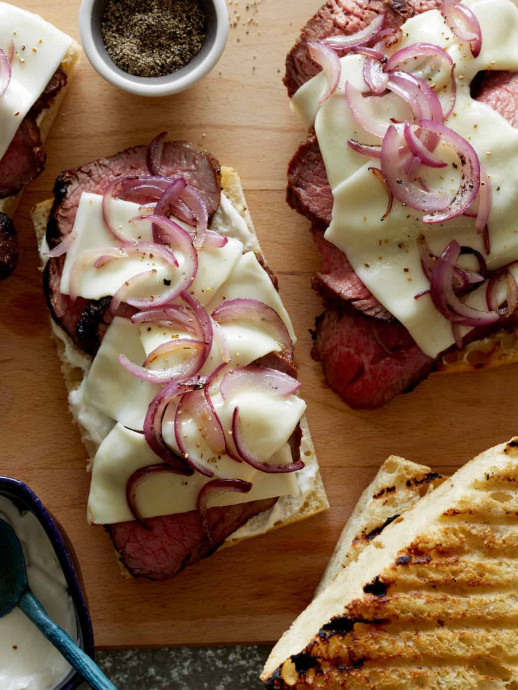 Today's recipe for Grilled Tri Tip Sandwiches is so easy and crazy delicious! Filled with juicy and flavorful grilled tri tip, melted cheese, thinly sliced red onions, and sandwiches between two thick slices of ciabatta, it's one of our favorite sandwiches! The sandwiches themselves are so simple, but the beef always has so much flavor! It's a simple recipe that packs tons and tons of delicious flavor! I love this dry rub, and you probably already have all of your ingredients in the pantry! This dry rub is really all purpose, it's delicious on all kinds of meat. I also love it on chicken, pork and fish. Top the sandwich with caramelized onions, and serve. A tri tip sandwich is a delicious sandwich made with beef from the bottom triangle tip of the sirloin. The sandwiches usually consist of caramelized onion, and a horseradish sauce. I like to use a grilled bread with a soft interior and crusty exterior on this sandwich recipe as well. The tri tip can be made up to two days ahead of time. (It's best to slightly undercook the beef so that it doesn't overcook when reheating). Once beef has cooled completely, tightly wrap in plastic wrap and refrigerate.
When ready to use, unwrap beef from plastic wrap and place onto a baking sheet. Heat in oven, at 350˚F, for 10 to 15 minutes or until beef has just heated through. Remove from oven and allow beef to rest, about 8 minutes. Thinly slice and assemble sandwiches.
Ingredients:
dry rub
2 ½ teaspoons salt
2 ½ teaspoons black pepper
1 tablespoon garlic powder
2 ½ teaspoons smoked paprika
2 teaspoons onion powder
1 teaspoon minced rosemary
One 2.5 pound tri-tip roast
1 tablespoon extra virgin olive oil
basting marinade
⅓ cup red wine vinegar
⅓ cup extra virgin olive oil
2 tablespoons whole grain mustard
4 ciabatta rolls, grilled/toasted or roll of choice
1 cup creamy horseradish sauce
1 cup sliced and lightly caramelized red onions
8 slices cheese