Easy Baked Beans on Toast (British-Inspired)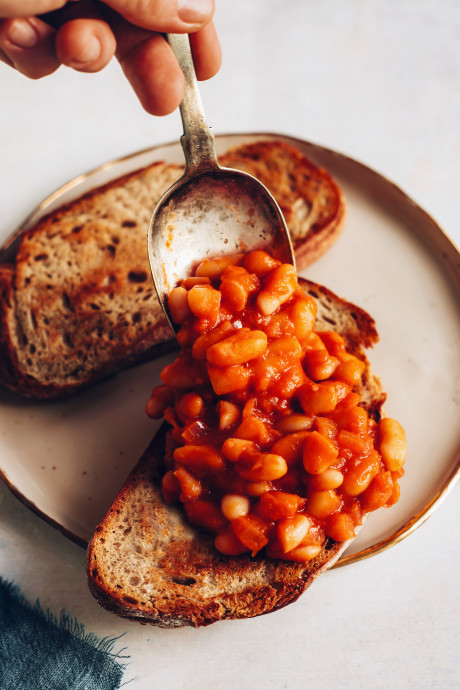 Beans for breakfast? It's a thing and it's delicious! This British-inspired meal is plant-based and easy to make, without sacrificing on flavor.
And unlike store-bought baked beans that tend to be heavily sweetened and fairly bland, this homemade version is lightly (and naturally) sweetened yet full of flavor! Just 1 pot and 30 minutes required. Let us show you how it's done! There are several theories on where baked beans originated. But the concept of baked beans on toast seems to be an iconic British staple. And Heinz (yep, the ketchup company) claims the combo was invented by one of its executives in 1927.
British baked beans are traditionally made with navy beans, which are a small white bean. Navy beans are called haricot beans in England and also go by names such as Boston beans and white pea beans.
Baked beans on toast is often served for breakfast as a part of a fry up (the British term for a Cooked English Breakfast). For lunch, they are more commonly served with a jacket potato (the British term for a baked potato). And they're even served at dinner, too!
Ingredients:
1 Tbsp olive or avocado oil (or sub water if oil-free)
1 medium shallot, finely chopped (~75 g or 1/2 cup // or sub 1/2 small white onion)
1/4 tsp sea salt (plus more to taste)
1/4 tsp black pepper (plus more to taste)
2 tsp garlic powder (or sub 2 cloves fresh minced garlic)
1 ¼ cups water
1 Tbsp apple cider vinegar
1/4 cup tomato paste
1 ½ Tbsp yellow mustard
4 tsp maple syrup (or coconut sugar)
2 tsp unsulphured molasses* (adds depth of flavor // we used blackstrap molasses)
2 (15-oz.) cans white beans, drained and rinsed (we prefer cannellini or Great Northern, but navy beans are more traditional // or sub ~3 cups cooked white beans made from 1 cup dry)
TOAST
4 slices bread of choice (use gluten-free if needed or serve on a baked potato)
Vegan butter or olive oil (optional)
FOR SERVING optional
Fresh arugula
Roasted cherry tomatoes
Wilted spinach