Double Berry Chia Jam Crumble Bars (Gluten-Free)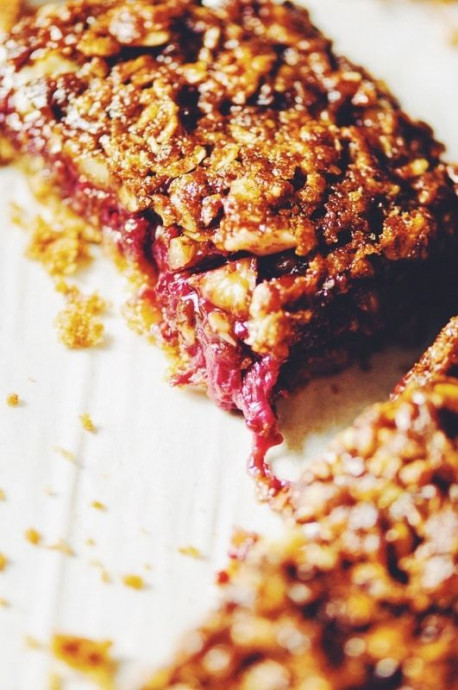 These Gluten-Free Double Berry Chia Seed Jam Crumble Bars make for one healthy and delicious breakfast, snack or dessert! Chia seed jam in and of itself is amazing. But, pair it with walnuts & put it in-between a buttery shortbread crust & crisp toffee-like oat crumble topping, and oh my, divine it is!
If you've never made chia seed jam before, then you are in for a real treat. It is incredibly quick & easy to make, and healthy to boot! This recipe will work with any combination of fruit your imagination will conjure--please do have fun with it!
I created these bars with strawberries & raspberries as my main inspiration, wanting to make them into a not too sweet treat that was also filling & fun to eat. These were a real winner with my family, with their incredible combo of textures, and oh so amazing flavors!
Ingredients:
Double Berry Chia Seed Jam (Gluten Free, Vegan):
1 cup strawberries (fresh or frozen)
1 cup raspberries (fresh or frozen)
2 tbs maple syrup
2 tbs chia seeds
1 tsp vanilla extract
Double Berry Chia Jam Crumble Bars (Gluten Free):
Gluten Free Shortbread Crust:
1/2 cup butter, melted
1/4 cup coconut sugar
1 tsp vanilla extract
1 cup gluten free all purpose flour
1/4 tsp sea salt
Double Berry Walnut Filling:
3/4 cup Double Berry Chia Seed Jam (recipe above)
1/2 cup walnuts, finely chopped
Oat Crumble Topping:
1/2 cup rolled oats
1/3 cup coconut sugar
1/4 cup gluten free all purpose flour
1/4 tsp ground cinnamon
1/8 tsp ground ginger
1/4 cup butter, cold