Carrot Cake Baked Oatmeal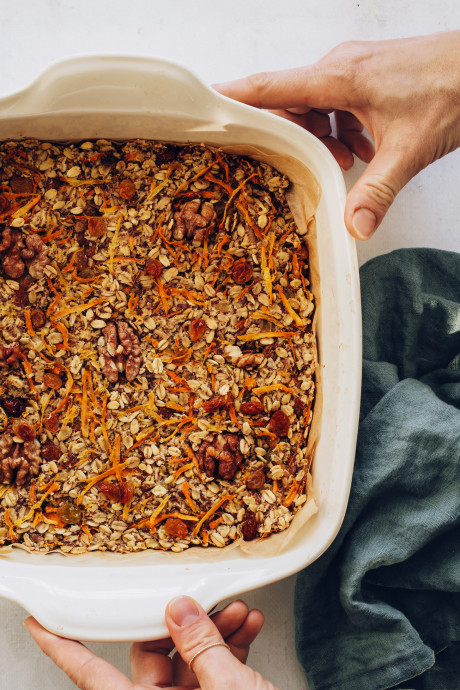 All of the flavors of carrot cake baked into oatmeal! Swoon! What started as carrot cake overnight oats morphed into So. Much. More.
The flavors of carrot cake really pop here thanks to freshly grated carrot, maple syrup, cinnamon, walnuts, and raisins. It's springy and light yet hearty and satisfying. Plus, just 10 ingredients and 1 bowl required. Let me show you how it's done!
Baked oatmeal is just what it sounds like! Instead of cooking oats on the stovetop or in the Instant Pot, they're baked in the oven. It's a hands-off cooking method that yields flavorful, textured oats that are perfect for meal prep or serving a crowd. This baked oatmeal includes all the flavors of carrot cake in a breakfast-friendly form. Making baked oatmeal is as simple as combining the ingredients in a bowl, pouring the mixture in a parchment-lined baking dish, and baking until golden brown.
After cooling slightly, it's ready to be cut into slices and topped with your favorite toppings. We love adding more dairy-free milk for moisture, maple syrup for sweetness, and nut butter for additional staying power.
Ingredients:
BAKED OATS
1 ½ cups loosely packed grated carrot (~2 large carrots)
2 batches flax eggs (2 flax eggs = 2 Tbsp (14 g) flaxseed meal + 5 Tbsp (75 ml) water // adjust if altering batch size)
1/4 cup maple syrup (or sub coconut nectar or agave nectar)
2 Tbsp melted coconut oil or avocado oil (if avoiding oil, sub applesauce or omit)
1/4 tsp sea salt
1 ½ tsp ground cinnamon
2 cups dairy-free milk (we used unsweetened almond milk)
2 cups gluten-free rolled oats
1/2 cup walnuts, chopped (plus more for topping)
1/2 cup raisins (plus more for topping)
1 Tbsp coconut sugar (optional)
FOR SERVING optional
Dairy-free milk
Coconut sugar or maple syrup
Nut butter