Mexican Street Corn (Elote)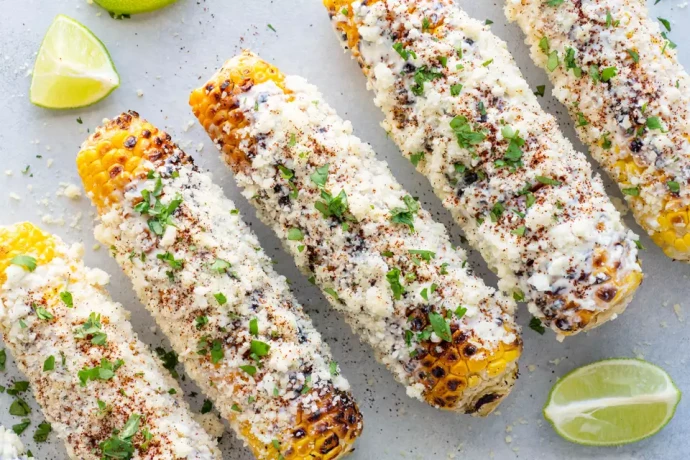 Mexican street corn—or elote (eh-LO-tay) as it's called in Spanish—is salty, sweet, crunchy, and creamy in every bite. It hits all the right flavor notes, especially hot off the grill in the summer months when fresh corn is at its peak and abundantly available at every market.
For a snack with so many layers of flavor, the recipe is quite simple. Roast corn still in its husks (it keeps them moist). Then, roll the ears of corn in a garlicky lime crema and crumbly queso fresco, a Mexican cow's milk cheese that's incredibly addictive. (Pro tip: Try it mixed into scrambled eggs, sprinkled atop avocado toast, or to jazz up a plain romaine salad—and thank us later).
Queso fresco and cotija cheese are fresh Mexican cheeses that are both super crumbly and tangy. You can substitute with another similarly textured cheese such as feta if you can't find either of these two options at the local supermarket. Feta, however, is a little saltier so you may want to use less of it. (Looking for a weekend cooking project? Making queso fresco from scratch is easier than you think.)
Elotes often include a pre-made spice mix called Tajín seasoning, which includes common ingredients used in Mexican cooking: ground red chiles, sea salt, and dehydrated lime juice. This recipe calls for chili powder but by all means if you have Tajín, use it. Just cut back on the salt, as it's already in the blend.
Ingredients:
8 ears sweet corn
1/2 cup sour cream
1/2 cup mayonnaise
1 medium lime, juiced
1 clove garlic
1 teaspoon salt
1/4 cup finely grated Parmesan cheese
3/4 cup crumbled queso fresco or cotija cheese
1/3 cup coarsely chopped cilantro
2 teaspoons chili powder