Avocado & Citrus "Ceviche"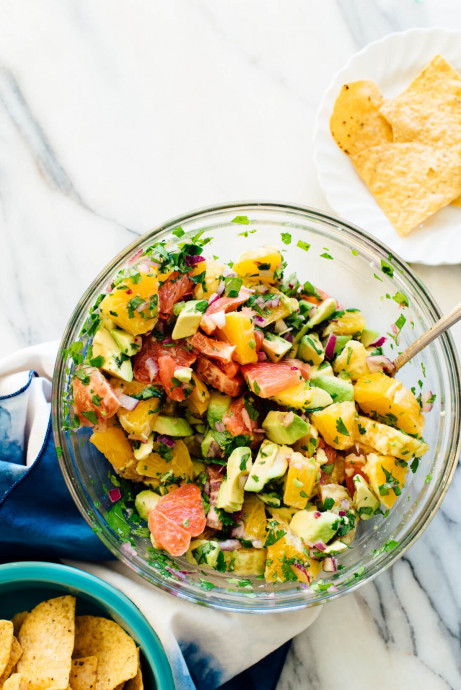 Little wedges of juicy grapefruit and orange are remarkably similar to raw seafood in texture and color. Citrus combined with perfectly ripe diced avocado makes a cheerful party appetizer or dip. It's healthy, too, and lighter than my favorite guacamole recipe.
This "ceviche" is made entirely with fresh produce, so use the best grapefruit, oranges and avocados you can find. Fortunately, it's citrus season, so you shouldn't have to look far to find sweet, juicy citrus. Pick avocados that yield a bit to a gentle squeeze, but don't have any mushy parts.
You're working with fresh produce that can vary a lot in size, so use your best judgement at the store and adjust the final product to taste. I don't always love grapefruit, but it's balanced here by rich avocado and sweet orange. If the final result tastes a little too bitter, add another pinch or two of salt, since salt helps cut bitterness.
This ceviche is simple to make; you'll just need a cutting board, sharp knife and serving bowl. The produce preparation is a bit labor intensive, though, so don't plan on making this in a big hurry. Pour yourself a beer or turn on some tunes and the time will go by quickly. This seafood-free citrus "ceviche" with avocado makes a wonderful appetizer, side salad or party dip! This vegan ceviche is delicious, colorful and healthy. Recipe yields 6 appetizer or small side salad servings.
Ingredients:
1 large grapefruit (preferably Ruby Red or another sweet variety)
2 medium oranges
2 large avocados or 4 small avocados, diced
½ cup finely chopped red onion
½ cup chopped fresh cilantro
½ medium jalapeño, seeds and membranes removed, finely chopped (use the full jalapeño if you like spice)
¼ cup lime juice (about 2 limes), more to taste
½ teaspoon fine sea salt, to taste
Optional: Tortilla chips, for serving