Mango "Burrito" Bowls with Crispy Tofu and Peanut Sauce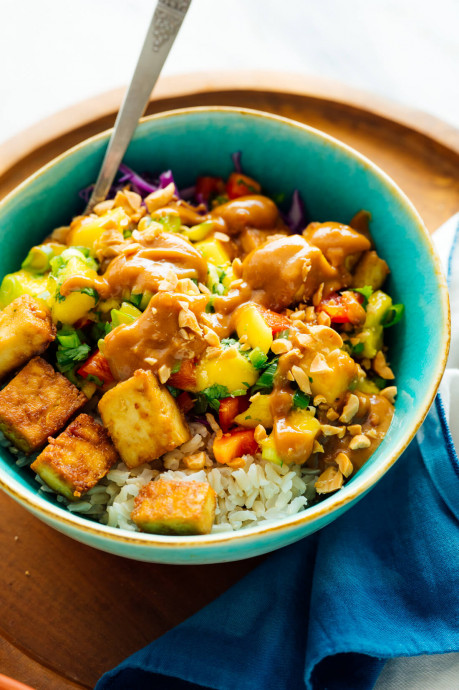 Think of these sunny mango bowls as a Thai spin on your favorite burrito bowl. They're refreshing and hearty, sweet and savory, and my new favorite summertime dinner.
These bowls were inspired by my Thai mango cabbage wraps, which are such a fun appetizer. I've added rice and shredded the cabbage to turn them into a more hefty dinner. These bowls feature perfectly cooked brown rice and shredded cabbage topped with crispy baked tofu, fresh mango salsa and peanut sauce. None of the components are difficult to prepare, and the combination is irresistible.
You could make these bowls on a relaxed weeknight, or save them for the weekend. Invite friends over, or keep your leftovers for tomorrow's lunch. You can't lose with this one.
Sweet, ripe mango is the key ingredient in this recipe (if you can't find good mango, substitute fresh pineapple). Some tips:
When you're shopping, look for mangos that yield lightly to a gentle squeeze, like a peach or avocado. Most varieties (like the kind I used here) will turn reddish in areas as they ripen.
If you come home with perfectly ripe mangos, store them in the refrigerator until you make this recipe.
If you need your mangos to hurry up and ripen, store them in a paper bag at room temperature.
Ingredients:
Crispy baked tofu and rice
1 block (12 to 15 ounces) organic extra-firm tofu
1 tablespoon extra-virgin olive oil
1 tablespoon reduced-sodium tamari* or soy sauce
1 tablespoon cornstarch or arrowroot starch
1 ¼ cups brown basmati rice or long-grain brown rice, rinsed
Peanut sauce
⅓ cup creamy peanut butter
3 tablespoons lime juice (about 1 lime)
2 tablespoons reduced-sodium tamari* or soy sauce
1 tablespoon honey or maple syrup, to taste
2 teaspoons toasted sesame oil
2 garlic cloves, pressed or minced
¼ teaspoon red pepper flakes (omit or reduce if sensitive to spice)
Mango salsa and cabbage
2 large ripe mangos, diced
1 medium red bell pepper, chopped
½ cup (about 4) thinly sliced green onions
¼ cup chopped fresh cilantro
1 medium jalapeño, seeds and ribs removed, minced
2 tablespoons lime juice
¼ teaspoon fine sea salt
2 cups shredded purple or green cabbage
Handful of chopped roasted peanuts, for garnish