Spelt And Muesli Morning Buns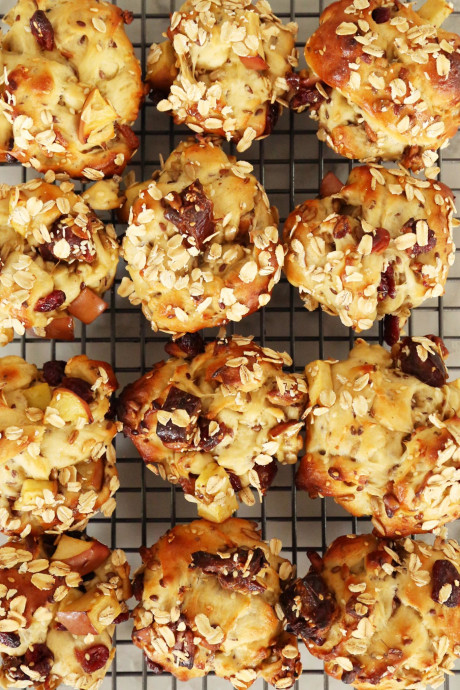 Hello friends! I'm sneaking in with a baking project for your weekend. A baking project that you might also consider meal planning for your week (because who doesn't want a warm muesli muffin every morning of the week) . A baking project that could keep you indoors in the air conditioning for the hottest part of the afternoon and make your house smell like bread and success.
This recipe is a true mashup. It's muesli meets pull-apart bread. It's breakfast meets afternoon snack. It's time to soften the butter and preheat the oven – this is a good one!
Despite this bread being packed to the gills with dried fruit, oats, and nuts – it's really not too sweet at all. The sweetness comes from the fruit itself and isn't overpowered by refined sugars. These muffins feels more like a hearty and wholesome breakfast bite. If your brain is like mine we might call it… Practically a Salad.
Ingredients:
For the Spelt Dough
1 cup warm room temperature water
1/3 cup flax seeds
2 1/2 teaspoon instant yeast
2 cups all-purpose flour, plus more for kneading
2 1/2 cups spelt flour
1 large egg, at room temperature
1/4 cup lightly packed light brown sugar
1 1/2 teaspoons sea salt
3 tablespoons olive oil
For the Muesli Filling
1/3 cup dried cranberries
1/3 cup diced pitted dates
1/3 cup sunflower seeds
1/2 cup coarsely chopped pecans
2 tablespoons sesame seeds
1 green apple, peeled and diced
2 large eggs
3 tablespoons honey
1/2 cup old-fashioned oats
For the Egg Wash
1 large egg
A splash of water
A pinch of salt